Go, ahead, play. The 20 artist-decorated pianos on display in Indianapolis and Carmel through Aug. 18 aren't just eye candy. They're public art pieces designed to appeal to all the senses, including the sense of community.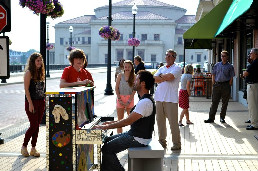 Carmel City Center hosted a reception to celebrate the GO Ahead & Play project. (Provided photo by Caitie Parten)
The project, organized by middle and high school students in a Women's Fund of Central Indiana philanthropy-education program called GO Give Back, is intended to bring art and music to unexpected places—and to encourage that inner toddler who has a hard time passing a piano without plunking out a few notes. (Surely I can't be the only one, right?)
Whether the result is ear-splitting or awe-inspiring is beside the point.

"It's delightful to see how people are engaging with the pianos," said Women's Fund Executive Director Jennifer Pope Baker.

Passersby aren't just playing. They're also shooting videos, taking pictures and spreading the word via social media. One couple even included a piano in one of their wedding photos.

Although most of the GO Ahead & Play pianos are in Indianapolis, two made their way to Carmel: Artist Erin Lawrance Salewicz' "Good Fortune Teller" beckons from outside Bub's Burgers & Ice Cream, and Nancy Peterson's "One Small Voice" is at Carmel City Center (where Carmel High School students will play from 6 to 8 p.m. tonight, tomorrow and Sunday).

When their public run is done, all but a few of the pianos will be moved indoors to Women's Fund grantee organizations, where Baker hopes they continue to inspire action.
For more on the project, including an interactive map of all piano locations, check out the Women's Fund website.

What's your take on the project? What's your favorite place to tap out "Heart and Soul?"