Westfield City Council is weighing a nearly $3 million plan to erect a pair of "landmark" towers at U.S. 31 and State Road 32, a key gateway to the growing community.

Made from precast concrete and stainless steel—and illuminated with digitally controlled LED lights—the 100-foot obelisks are intended to be iconic, beckoning motorists who otherwise might drive by without stopping.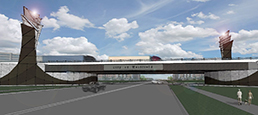 U.S. 31 will cross over State Road 32 just east of downtown Westfield. Supporters say the proposed towers would let visitors know they've arrived. Click to enlarge. (Rendering courtesy of RQAW Inc.)
Proponents say the so-called placemaking initiative will drive economic development and tie together two major city projects: the massive Grand Park Sports Complex west of U.S. 31 and the ambitious Grand Junction redevelopment plan downtown.
"We have this wonderful product, and now we need to make the world aware" of it, council President Jim Ake said Monday, introducing the project before a public hearing.

Funding would come from the $44 million Westfield netted from its utility sale. The proceeds, which can only be used for infrastructure improvements, should be enough to cross every item off the council's infrastructure wish list with millions to spare, Ake said.

Councilor Rob Stokes said he would have preferred to spend the money on the police and fire departments, but that's not allowed.

The council won't vote on the measure until next month, but Stokes said he won't support the project. First off, he's not sure how the purely aesthetic towers qualify as infrastructure. And he thinks there are better ways to use the windfall—if it's used at all.

"Just because we have it doesn't mean we have to spend it," he said.

Council members shared their thoughts after listening to more than an hour of input from Westfield residents and business owners on both sides of the issue.

Most speakers agreed that the city needs some kind of identifiable gateway to draw visitors, but some questioned the scope and scale of the project—not to mention the price.

The proposal is the result of two years of work by the appointed Grand Junction Task Group, said Chairman Ken Kingshill, director of the not-for-profit Downtown Westfield Association.

At Mayor Andy Cook's urging, the group set out to differentiate downtown Westfield from other exits along U.S. 31, which the Indiana Department of Transportation is transforming into an interstate-like highway.

They rejected the idea of building a distinctive bridge like the one at Interstate 65 and State Road 46 in Columbus, Ind., because of the cost, Kingshill said. Instead, the group focused on adorning INDOT's standard "box bridge" with something memorable.

"It's a priceless marketing investment," he said, citing the potential for such landmarks to join Indianapolis standards like the downtown skyline, Monument Circle and Central Canal in central Indiana "beauty shots" during televised sporting events.

Local engineering-and-architecture firm RQAW Inc. refined an early concept, coming up with a design intended to reflect both the city's heritage and its potential.

For example, the tower's inner metal "crown" represents the "innovative directions and energy of the community," RQAW wrote in a summary. With the lighting, the torch-like structures invoke the lanterns that identified safe stops on the underground railroad.

INDOT is installing the foundations for the towers now as it builds the interchange included in its $350 million highway overhaul, Kingshill said. City leaders need to decide soon whether to proceed.

Westfield solicited bids for the project earlier this year, receiving five proposals ranging from $2.4 million to $3.1 million. A contract can't be awarded until the council authorizes the expenditure. (If the vote had been held Monday, it would have passed 4-2.)

Resident Birch Dalton, who is working with a local investment group to develop property at the southeast corner of 31 and 32, appealed to officials' competitive spirit in urging them to approve the project.

"This is a great opportunity to beat Carmel to the punch," he said, since southbound motorists will reach Westfield first. "It's good for business."