Hamilton County isn't in the business of hosting conventions or trade shows—for now.
With the success of the downtown Indiana Convention Center, it's an area tourism officials haven't seen the need to tap into. But the opportunity could present itself when the 370,000-square-foot indoor soccer facility is completed at Westfield's Grand Park Sports Campus.
Karen Radcliff, vice president and chief strategy officer for Hamilton County Tourism Inc., said in order to be competitive in the convention market, a community needs a facility with a hotel and meeting space together, which Hamilton County has been missing.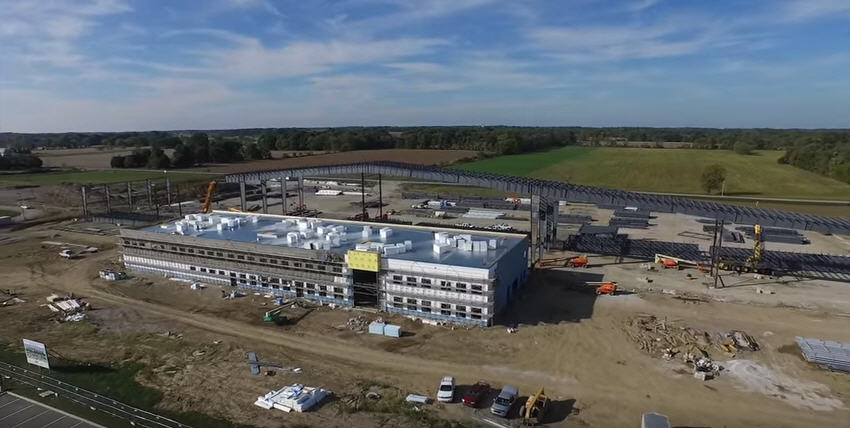 The indoor soccer facility would provide plenty of space for conventions, trade shows, events and meetings—and a hotel of up to six stories known as "The Haven at Grand Park" is slated to be constructed next door.
Radcliff said her staff and sister organization, Hamilton County Sports Authority, have been working with Grand Park officials to determine how the building could be used and what times of the year the facility won't be occupied by sporting events.
"We could see that we'll be selling in a new space that we've not sold before," Radcliff said.
A big unknown right now, though, is what accommodations will be available in the adjacent hotel for businesses and vendors. The city has been primarily negotiating with Greenwood-based Jonathan Byrd's, which has proposed a 180-room hotel under an independent brand.
"We still don't know what the configuration is going to be," Radcliff said.
The soccer facility will have three full-size professional fields along with locker rooms, meeting and office space and a restaurant operated by Jonathan Byrd's. It is being built through a public-private partnership between the city of Westfield and Holladay Properties and is under construction now. The steel support beams were recently installed (click to watch video from Westfield), and it is expected to open in summer 2016.
Grand Park has already had a big influence on Hamilton County Tourism Inc.'s marketing strategy since it opened last year. Read more about how the agency is trying to attract tourists to the area in the fall, rather than spring and summer, in next week's edition of IBJ.