The city of Fishers is offering to waive more than $1.6 million in fees for Ikea's planned store near 116th Street and Interstate 69.
The economic development agreement between the city and the Swedish home furnishing company requires the city to cover the costs for road, park, bridge, permitting, development and sewer impact fees. The total savings for Ikea is estimated to be $1.66 million.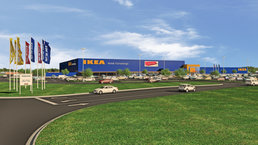 Ikea announced Tuesday that it would be investing $40 million to open a nearly 300,000-square-foot store within the Exit Five Corporate Park by fall 2017. Construction is expected to start in the summer.
The incentives deal also requires road projects by the city and Indiana Department of Transportation to be completed on schedule or Ikea can be eligible for a property tax abatement.
INDOT is coordinating with Fishers and Hamilton County to construct a new exit at 106th Street on I-69, which would provide another access route to the Ikea store. The project is expected to cost $34 million and would create a two-lane, oval-shaped roundabout on 106th Street over the interstate with ramps to and from both directions. Fishers has already allocated $9.52 million for the new interchange.
Fishers is also working on a $6 million project to add a new eastbound lane on 116th Street from I-69 to Cumberland Road and remove the traffic signal at USA Parkway. A new traffic signal will be installed at 116th Street and Exit Five Parkway with double left turn lanes from eastbound 116th Street onto Exit Five Parkway and at Oak Drive onto 116th Street westbound.
Oak Drive also will be widened and extended south to intersect with USA Parkway.
The agreement requires the road construction to be finished by the end of July 2017 so it doesn't interfere with the store opening, which is projected to be in fall 2017.
"It's an incentive for us to get our road projects done," said Tim Gropp, assistant economic development director for Fishers.
Starting April 1, 2016, the city must provide a written update to Ikea detailing the progress of the road work and whether it is on schedule.
Several scenarios are outlined in the agreement that vary depending on the progress of the projects and the notice the city has given Ikea about them. Among the options, the company could receive a two-year, 100 percent tax abatement if the city both fails to give Ikea proper notice and the city needs up to an extra year to finish the road work.
In the worst case scenario, if Fishers doesn't finish the infrastructure improvements by July 31, 2018, then Ikea would be entitled to a 10-year, 100 percent property tax abatement.
"That should never happen unless there was some very weird circumstance," Gropp said.
Also as part of the arrangement, the planned extension of Oak Drive across USA Parkway and into Ikea's future parking lot will be named Ikea Way by 2017.
Fishers City Council will discuss the agreement Monday night.