Brewery-related businesses are tapping into Hamilton County, following a rush of brewery openings in the past couple years.
A brewery bus tour company has already started chauffeuring craft beer enthusiasts from one watering hole to the next, and an adult pedal bike could be introduced in Fishers this summer.
Darryl Sopoci launched The BrewsLine in early 2014 and has grown from five breweries on the stop list to 15 in the North of 96th Street area. Another five breweries that Sopoci works with are in Indianapolis, which he'll go to by request.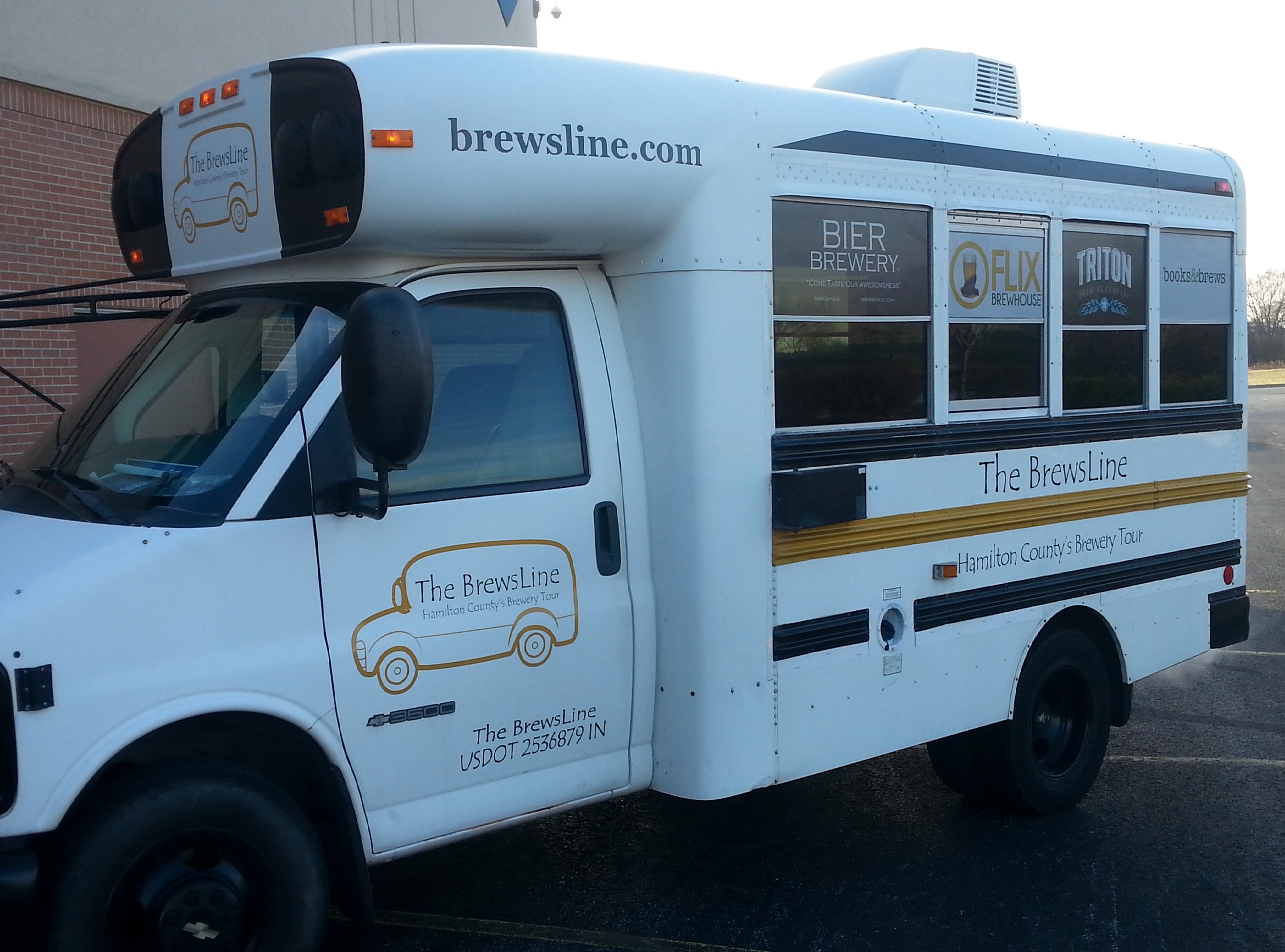 "We're adding them so quickly, I'm starting to lose track," Sopoci said. "We've had great growth in the past two years."
The business still only uses one bus, which usually runs five tours per weekend (Thursday through Sunday), but expansion plans are in the works.
Sopoci said a second bus has been purchased, and a new "brews line excursion" route is launching soon to take people on day trips to breweries in other parts of Indiana and neighboring states. The first trip will go to Big Woods Brewing Co. in Nashville, Indiana.
Typical tours visit three or four breweries, can fit up to 14 people, and can be reserved individually or for groups. The cost is $35 per person and includes tastings.
Other than a few spots remaining for a tour on Feb. 6, Sopoci said he's booked through February.
He also started the Bicentennial Brew Tour in conjunction with Hamilton County Tourism Inc. The tour costs $40 and visits five Hamilton County breweries—Deer Creek Brewery, Grand Junction Brewing Co., Deviate Brewing, Heady Hollow Brewing Co., and Sun King's Fishers taproom.
It's offered on Sunday afternoons through May.
In Fishers, Chris Hutchinson, founder of niche consulting company The CoLab Group, is preparing to start his second business with his wife in June—The Brew Bike.
The 16-person bike will be similar to The Handlebar Pedal Pub and Pickle Peddler in Indianapolis, with riders pedaling to different local establishments and being able to drink along the way.
"The idea just kind of hit me and my wife that it'd be cool to have a local version of this," Hutchinson said.
Hutchinson said he's already secured an agreement with Four Day Ray Brewing, which is planning to open an 8,000-square-foot brewery, restaurant and taproom on the corner of Lantern Road and North Street, and he's finalizing agreements with two other local establishments.
The two-hour route will avoid 116th Street to minimize traffic back-ups. Hutchinson said he plans to operate the bike seven days per week and offer five to six tours per day. It will be available from mid-March through mid-November.
Booking an entire bike for a group excursion will cost $300 on Monday through Thursday and $400 on Friday through Sunday. Individual pricing has not been determined yet.
Hutchinson said he expects the company's website to launch within the next four to six weeks, and then reservations will be open.
He also hopes to coordinate with local downtown events like the Tuesday Night Concert Series and the Fishers Farmers Market. He said he's working with city officials on permitting for the operation.
The company will use one bike from Savannah, Georgia-based Crawler Fabrications Inc. to start, but if successful, more could be added. Additional stops could also be arranged in the future.
"We'll see how it evolves," Hutchinson said.