Carmel is looking to improve a section of the Monon Trail that cuts through the city's core.
The city has hired Gehl Studio Inc., a branch of Denmark-based Gehl Architects with offices in San Francisco and New York, to study and propose a new design concept for the multi-use path through the area known as Midtown, between City Center and the Arts & Design District.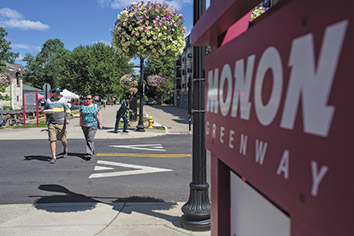 The $170,200 contract includes creating plans for new landscape and urban features of the 1.2-mile stretch of the Monon from First Street NW to Carmel Drive. The agreement also requires the design firm to reimagine Rangeline Road within the Midtown area—from 116th Street to Main Street—into a more pedestrian-friendly corridor.
Carmel Mayor Jim Brainard has previously discussed a desire to upgrade both corridors. In his State of the City address in October, he discussed turning Rangeline into a boulevard-like street with two wide lanes in both directions and parking along the sides.
Also, a plan prepared for the city by Speck and Associates LLC in 2012 called for extending Second Avenue south along both sides of the Monon as one-way boulevards.
In October, executives from Gehl Studio visited Carmel and briefly toured the specific sections of the Monon Trail and Rangeline Road. According to the contract, representatives are expected to visit again during the design process.
The plans will include suggestions for adjacent building height, cross sections, setback requirements, an overall layout and cost estimates for the updates. Gehl expects the work to take three months to complete.
Several Carmel City Council members questioned the status of a new design for the Monon when plans for Midtown were introduced in February.
Brainard told the council at that time that the CRC previously needed council approval for any contract higher than $25,000, and he did not believe he had the votes on the previous council to approve a design contract for the Monon.
"We did what we could working under that cap," Brainard said.
The sitting council removed the contract restriction for the CRC earlier this year.
Carmel Redevelopment Commission Executive Director Corrie Meyer described the cost as "comparable to what our local teams would charge."
The CRC approved the contract March 16.
"The Monon is what has made this area bloom and work," Brainard said at the Feb. 15 council meeting.