Bike share programs are gaining popularity in the northern suburbs.
Carmel's bike sharing service has continued to expand as the 11th docking station opened Friday, and Westfield also introduced the city's first bike sharing station on the same day.
Carmel started the program with Cambridge, Massachusetts-based Zagster in April 2015 with 16 bicycles and six adult-sized tricycles located at two docking stations near the Monon Greenway and City Center.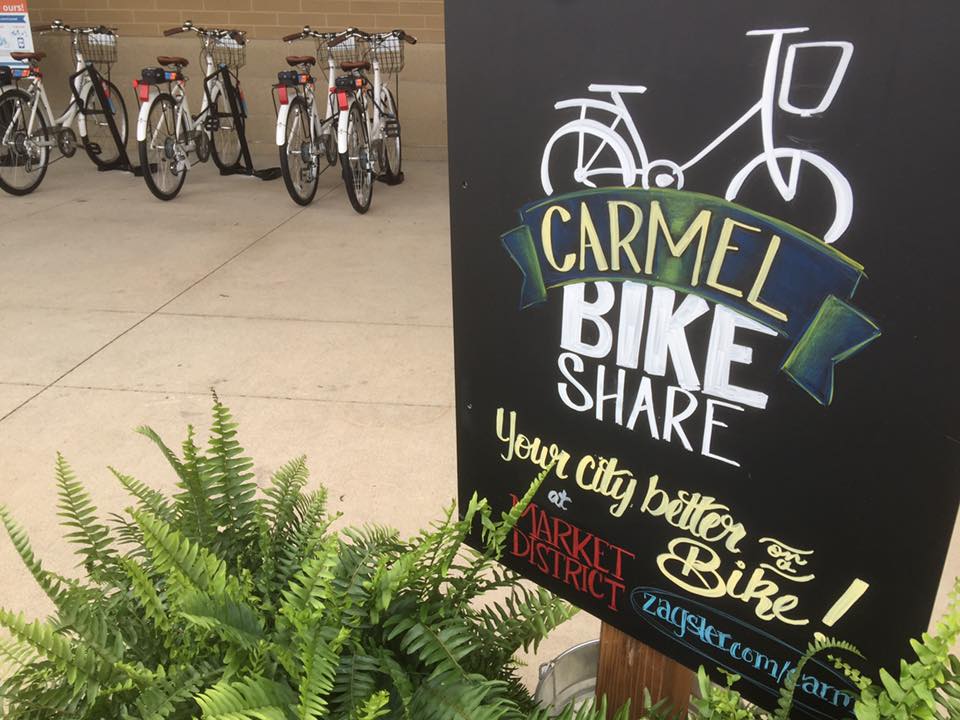 Since then, nine other locations have been added, including the Clay Township Government Center, the Monon Community Center, Carmel City Hall, SpringHill Suites, Residence Inn, Hamilton County Tourism Inc., Clay Terrace shopping mall and Allegion's offices on Pennsylvania Street.
Most recently, Market District added a station on its property near 116th and Illinois streets, bringing Carmel's total to 11 stations and 86 bikes.
Initially, the city's contract with Zagster was for $30,620, but the city paid Zagster $50,910 in 2015, and has paid $33,000 so far in 2016. The increased price was due to the added number of stations and available bikes.
The city, with some financial support from Hamilton County Tourism, covers the cost of six stations with 50 bikes. To date, more than 3,500 trips have been taken.
Westfield launched its own program with Zagster on Friday with its first station located in a city parking lot off Union Street, across the street from Grand Junction Brewing Co. The two-year contract will cost $9,360, which is being split between the city and Hamilton County Tourism.
Westfield spokeswoman Erin Murphy said the city is hoping local businesses invest in bike stations, as companies did in Carmel, to help grow the program.
Usage fees are the same in both communities. Rentals are $3 an hour with a maximum of $24 for a 24-hour period and $15 per month or $75 annually for unlimited rides less than an hour long. Additional time under the monthly or annual plan would cost $3 per hour, for a maximum of $24 in a 24-hour period.
Westfield and Carmel both receive 93 percent of the usage fees for the bikes the municipalities pay to provide.
Users create accounts through Zagster's mobile app and receive a code to unlock a specific bicycle, which can be returned to any docking station, similar to the Indiana Pacers Bikeshare service in downtown Indianapolis.
Fort Wayne and Huntingburg also both recently partnered with Zagster to provide a bike sharing service.