Muncie-based First Merchants Bank has secured the naming rights to the stage and amphitheater in Noblesville's Federal Hill Commons Park as part of a land deal worth $375,000.
The $6 million park that is under construction northwest of the intersection of State Roads 19 and 32 will include art displays, a playground, a water feature and walking paths in addition to the planned amphitheater.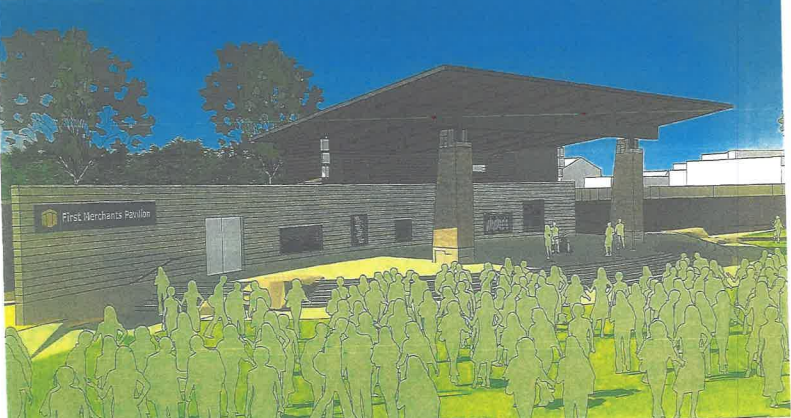 Noblesville has agreed to a $375,000 deal to acquire a 0.84-acre piece of property adjacent to the 6.75-acre park from First Merchants, but it will only pay $125,000 in cash. The remainder will be covered through an exclusive five-year agreement that gives First Merchants Bank the naming rights to the stage and amphitheater, which will be named First Merchants Pavilion.

The deal also includes signage and placement of an ATM at the park. The five-year term will start Jan. 1, 2017.
According to the agreement, the city will pay for the construction, installation and maintenance of the signs. The bank will pay all costs related to the ATM.
The city had initiated eminent domain proceedings to acquire the property from Ameriana Bank, but at the beginning of the year First Merchants Corp. finalized its merger with Ameriana and took control of the land.
City officials said the deal with First Merchants is a "substantial cash savings" from what paying through eminent domain would have cost.
The park, which the city sees as an economic development tool and a way to extend the historic downtown to the west of the White River, is expected to open in the fall.
The Noblesville Board of Public Works and Safety approved the agreement with First Merchants Bank on Tuesday morning. It does not require City Council approval.