Fresh To Order is coming to Noblesville.
The restaurant chain that focuses on quickly prepared healthy selections plans to open in early February at 13230 Harrell Parkway in Hamilton Town Center.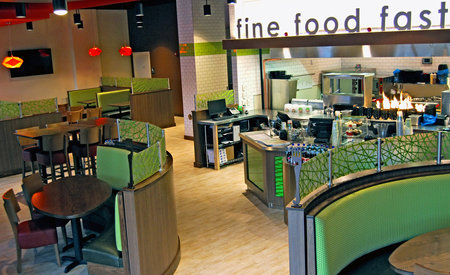 The 4,800-square-foot store will be the first of 10 proposed Indianapolis-area locations that the company expects to open through a partnership with Charles Hensley, CEO of Acuity Restaurant Group.
Hensley is the former CEO and managing member of McIndy Ventures LLC, which owned 19 McAlister's Deli locations. McIndy Ventures sold the restaurants to a Tennessee-based company last year.
Fresh To Order has 14 locations in four states—Georgia, Tennessee, South Carolina and Florida—and also plans to open in Chicago and Philadelphia.
The Atlanta-based company was founded in 2006 by Pierre Panos, who has worked to carve out the "fast-fine" niche. He aims to have 50 Fresh To Order restaurants open with 50 more in development by 2018, according to the company's website.
The menu features soups, salads, sandwiches and dinner items, including Coconut Curry Salmon, Calamari and Chicken Wild Mushroom. The restaurant strives to serve $10 entrees in about 10 minutes.
Also at Hamilton Town Center, Potbelly Sandwich Shop plans to open at 12831 Campus Parkway. It will be the second Hamilton County location and third Indianapolis-area location for the quick-service sandwich shop.
Potbelly already is located at 11529 Spring Mill Road in Carmel and 55 Monument Circle in downtown Indianapolis.
In other Hamilton County retail news:
• BoomBozz Craft Pizza & Taphouse has opened at 9887 E. 116th St. in Fishers. It is the second central Indiana location for the gourmet pizza restaurant. The other outlet is at 2430 E. 146th St. in Westfield. BoomBozz launched in Louisville in 1998 and has expanded to a total of seven locations.
• La Hacienda is moving across U.S. 31 in Carmel from 12237 N Meridian St. to 12480 N. Meridian St. The Mexican restaurant recently closed its location in Hamilton Crossing Center and should open the new one by end of the year, according to the restaurant's Facebook page.
• Carter's Play Place has opened at 17219 Foundation Parkway in Westfield. The owners—Adam Meents, Brandon Warren and Joe Blamer—initially planned to open a franchise of We Rock the Spectrum at the location but pulled out of the agreement to instead launch their own company.
The sensory gym provides adaptive play for neurotypical children from infants to 10 years old and special needs children of all ages. The gym features a 40-foot indoor zipline, trampoline, steel swing apparatus, party room, toddler room and quiet room.
• DentalOne plans to open a Noblesville location at 17535 Terry Lee Crossing. The dental practice, which has more than 160 locations throughout the country, has one office in Indiana at Castleton Square, 6020 E. 82nd St.