Topgolf International Inc. has broken ground on a sports and entertainment venue in Fishers, but it won't be opening until fall 2017, despite an initial projection to open in the spring.
Topgolf spokeswoman Morgan Wallace said pre-construction delays caused the opening to be postponed.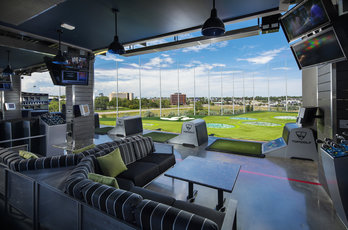 The three-story, 65,000-square-foot attraction is under construction near the northeast corner of 116th Street and Interstate 69. That's a different site from the one Topgolf first announced in January.
The venue initially was planned farther east on 116th Street, closer to Cumberland Road. The new site puts Topgolf nearer to the 289,000-square-foot Ikea store that is also under construction near the southeast corner of 116th Street and I-69.
Wallace she didn't have details on why the location shifted, but said site-selection changes occasionally happen when the company enter new markets. Dallas-based Topgolf has 27 existing locations and seven other spots in planning and construction stages.
Topgolf offers competitive golf games aimed at different ages and skill levels, along with food, alcohol and other entertainment options. The center, which will have more than 100 climate-controlled hitting bays that can host up to six players at a time, is expected to cost between $18 million and $25 million to develop.
It will also feature more than 200 high-definition flat-screen TVs, free Wi-Fi and a rooftop terrace.
Hiring for the Fishers location is expected to start in the summer. About 500 people will work in the facility.