A Noblesville High School innovation teacher has launched a program designed to help other educators encourage students to innovate and be entrepreneurs.
Don Wettrick, who introduced an innovations class at NHS in 2014, wanted to expand his curriculum to other schools so it could have a bigger impact.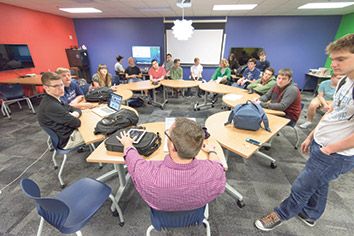 The innovations class at NHS allows students to pursue passion projects and encourages them to think differently. (IBJ photo/Eric Learned)
He has published a book called "Pure Genius: Building a Culture of Innovation and Taking 20% Time to the Next Level," and regularly travels to other school districts and educational events promoting the benefits of letting—and even encouraging—students to fail. But he knew it wasn't going to have a lasting effect if there wasn't any follow-up.
"The number one thing I hear after conferences is, 'I wish my son could take your class,'" Wettrick said.
One of his former students, Hunter Stone, suggested Wettrick design content for other educators and make it available digitally.
In August, Wettrick introduced StartEdUp, which gives teachers and school leaders the tools they need to take a different approach to education and allow students the flexibility to be creative, collaborate and try new things.
When he beta-tested it in the summer, the program was offered to teachers for free, and then in August it transitioned to being priced for teachers.
"Sales were less than good," Wettrick said. "Teachers expect professional development to be paid for by the school. Was it a punch to the gut? Of course it was."
He recently tweaked the model, and StartEdUp is now available for schools to purchase at three different price points—$3,000, $10,000 and $15,000. All levels include a year of access to the online courses, but for $10,000 educators would also get monthly webinar check-ins, and at $15,000 the program includes the monthly webinars and an in-person daylong workshop taught by Wettrick.
Wettrick said he's targeting Indiana schools, but StartEdUp eventually could expand beyond that. The concept could be incorporated in any grade K-12.
"I don't want to replace education, I want to enhance it," Wettrick said.
About 50 educators are using the program now, but Wettrick is hopeful the number will grow now that the product is aimed toward schools.
Within the last month, he also secured a partnership with the Think Forward Foundation, which was founded by serial entrepreneur Scott Jones in 2010.
The foundation will license the StartEdUp content and provide some funding, but Wettrick declined to discuss the details of the financial agreement.
Along with the online content available for educators, Wettrick also launched aStartEdUp podcast on Jan. 1, for which he will interview other education leaders and entrepreneurs in other industries.
Hunter, who is chief technology officer and co-founder of StartEdUp, also helps run the podcasts.
Episodes include interviews with Jeff Hoffman, serial entrepreneur and a founding member of Priceline.com; Nik Koyama, videographer and co-owner of 6 Degrees Coffee Shop; and Grant Lichtman, longtime educator and founder of the website and blog "The Future of K-12 Education."