The city of Carmel is adding more office space to the Palladium in a project that will allow the Center for the Performing Arts to consolidate most of its staff in one location.
The Carmel Redevelopment Commission recently approved spending $283,700 to build out unused space on the fourth floor of the building.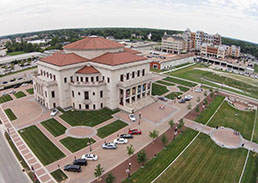 The 3,500-square-foot space is currently unfinished and mostly used for storage. The project includes creating 12 offices, an open office area, restrooms and a common area within the space.
The six-year-old Palladium, which houses a 1,600-seat performance hall, is the main venue in the Center for the Performing Arts campus, also home to the 500-seat Tarkington Theatre and 200-seat Studio Theatre.
The fourth floor of the Palladium, known as the Gallery Level, also contains the 6,200-square-foot Great American Songbook Gallery, the Great America Songbook Foundation's offices and library, and the 1,409-square-foot Shiel Sexton Songbook Lounge.
The Center for the Performing Arts staff is spread between three different buildings now and will be combined in the Palladium once the project is finished.
Administrative, development, programming and marketing staff will occupy the fourth floor, while finance and human resources staff will be located in an office elsewhere in the building.
The gift shop also will be relocated from the east lobby to the west lobby, which is considered a more high-traffic area near the box office.
Indianapolis-based Charles C. Brandt Construction Co. will complete the work for the CRC.
Just outside the Palladium doors, the city continues to move forward with its plans to renovate the Center Green—between the Palladium and the James Building—into a public plaza and ice skating rink.
The ice skating rink is expected to be just shy of the size of a standard National Hockey League rink, which is 200 feet by 85 feet.
The new plaza is expected to cost $5 million and be open by winter.