Consider all the supplies a typical hospital buys in just one month: bandages, syringes, wipes, splints, gloves, lab equipment, office supplies, bed linens, surgical devices, cleaning supplies, drugs, IV solutions—the list seems endless.

Add it all up, and it could top tens of thousands of items, tying up a fortune in inventory and taking up enormous amounts of space in supply rooms.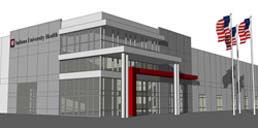 IU Health is spending $9 million on a high-tech service center in Plainfield.. (Image courtesy IU Health)
Or, in the case of Indiana University Health, taking up space in supply rooms at 15 hospitals, plus clinics and urgent care centers.

Now, IU Health, the state's largest hospital system, believes it has found a better way to manage all those supplies—and save money, too.

The organization is spending $9 million on a new "high-tech integrated service center" in Plainfield in an effort to improve distribution of medical and other supplies around the state.

"We were storing bulk supplies in every one of our hospitals," said Dennis Mullins, vice president of supply chain operations at IU Health. "It was inefficient."

It was also expensive. Supplies are the second-largest expense for hospitals, behind only salaries and benefits. IU Health had to pay millions of dollars a year in distribution and handling fees to outsiders to get all the supplies shipped in and shuttled around.

Now it will take on the task itself, streamlining the process with a robot-controlled picking system at the new service center, tied into other advanced logistics processes.

IU Health will run trucks out of the warehouse every day, supplying all its facilities around the state.

Developer Browning Investments broke ground last week on the 300,000-square-foot building. It is designed to receive, hold and process inventory used to support patient care at IU Health hospitals and other facilities. IU Health signed a long-term lease with Browning.

Dennis Mullins
IU Health estimates that it will be able to save $3 million a year through standardizing inventory, ordering in bulk at a discount, streamlining delivery routes and restocking of inventory.

By cutting out the middleman, IU Health believes the project will pay for itself in about three years.

"We will essentially become the distributor, and because of that, the manufacturers are willing to give us a discount, because they no longer have to pay that fee to a distributor," Mullins said.

About 110 people will work at the warehouse. Forty will be distribution jobs now based at hospitals and four existing warehouses that will be closed. The other 70 will be office jobs.

The overall goal sounds like something you might hear on an upcoming IU Health radio or TV spot: getting all the hospitals all stocked up, but not buried in supplies.

"We want to make sure," Mullins said, "they have the right products in the right place at the right time in the most cost-effective manner."