Democrats are raising questions about whether Todd Young has filed enough signatures with the Secretary of State's office to qualify for the ballot in the GOP primary for U.S. Senate.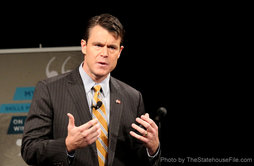 Indiana Democratic Party Chairman John Zody says he will file a formal petition with the Indiana Election Division on Wednesday challenging Young's ballot petitions in Indiana's first congressional district. Senate candidates must file signatures from 500 registered voters in each district to be on the ballot. Democrats say Young only has 498 from the 1st District that meet the qualifications.
But Young's campaign manager, Trevor Foughty, dismissed the accusations, saying the campaign "has clearly met the requirements to be listed on the ballot." He called the Democrats' actions "blatantly political gamesmanship."
"Our campaign submitted more than enough ballot petition signatures in each congressional district," Foughty said. "Further, clerks in all 92 counties verified the validity of those signatures. At this point, any attempt to disenfranchise voters would be unfortunate, underhanded, and ultimately unsuccessful."
Young, a member of the U.S. House from Indiana's 9th District, is facing his congressional colleague, Rep. Marlin Stutzman, R-3rd District, in the Senate primary.
The race had included Eric Holcomb but he withdrew on Monday, a day before Gov. Mike Pence announced he would nominate Holcomb to be the state's next lieutenant governor. Holcomb's decision is expected to help Young, who has raised the most money in the race.
Democrats plan to ask election officials to throw out some of Young's signatures for reasons including unverifiable voter registration records as well as missing zip codes or other information, according to a story at Politico.com. Also, the story said, a state report showed Young "perilously close to the qualification line, listing 501 signatures in the heavily Democratic 1st District." But election division officials told Politico the report may not be fully accurate because counties handle the signatures differently.
Democrat Baron Hill, a former congressman from Indiana's 9th District, is the lone candidate in the Democratic primary.
Update: Zody filed the petition Wednesday morning. The matter could be heard at an Indiana Election Commission meeting next week.
Read more stories about the 2016 election at our Ballot Box page.