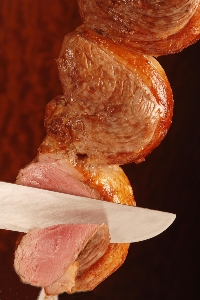 At least two more Brazilian steakhouse concepts are looking to open new restaurants in Indianapolis, brokers say. The first to debut locally,
Brazilian Grill
, opened a few months ago at 86th Street and Township Line Road. Another Brazilian steakhouse restaurant apparently has a deal for the first floor of the Broadbent Building downtown at Washington and Pennsylvania streets. Broadbent had hoped for a bank and a small restaurant, but appears poised to go with the large restaurant instead. These restaurants, where meat is carried on skewers and sliced off for diners, are catching on in smaller markets. Anyone dined at one of these places? Thoughts?
Other deals in the works downtown: Bar Louie, the Chicago-based chain that opened in Clay Terrace last week, has been talking with Simon about taking space next door to Weber Grill. And Scotty's is discussing a possible deal for space in Jefferson Plaza. Brokers say neither deal is done.