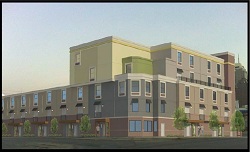 The bank that owns the infamous Di Rimini apartment project is offering more details about its plans to overhaul and finish the development at 733 N. Capitol Ave. Stock Yards Bank & Trust, which took over the property from a developer who put up a vastly different building than the one the city approved, has been working with city planners in a bid to salvage the project.
Among the changes reflected in the new rendering above:
Brick on the first-floor facades along Capitol Avenue and St. Clair Street.
Lighting at each first-floor entrance, with address numerals.
Glass doors and weather protection canopies for first-floor entrances.
Improved window, sliding door and roofline design.
New stair tower clad in brick.
Improved landscaping.
Removal of leasing office space and replacement with a retail use.
A hearing examiner is scheduled to consider approval of the changes Aug. 23. Planning department officials have said they'll recommend approval if Stock Yards makes a handful of additional, minor changes to its design.
Want to compare the proposed new look to what's there now and catch up on the Di Rimini saga? Click here.