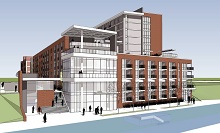 Work began this week on a $60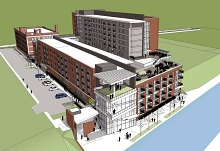 million apartment and retail development along Ninth Street between the Central Canal and Senate Avenue that will be geared toward students and young professionals. The project, now dubbed 9 on Canal, calls for 304 apartment units with a total of 398 beds and 6,000 square feet of commercial space split between the Canal level and along Ninth Street, said Larry Gough, president of Centreville, Mich.-based Investment Property Advisors, which has been working on the plans for more than two years. The final plans call for a 5-story section and a 10-story section, down from an original proposal that would have topped out at 26 floors. The furnished units will range in size from 500 square feet for some one-bedrooms up to 1,300 square feet for a handful of three-bedrooms and rent for between $850 and $1,250 per bed per month. Rent will cover utilities, cable TV, internet, and furnishings. The only extra expense would be if a resident needed a space in the community's underground parking garage. About 65 percent of the units will have one bedroom, and most will boast Canal or city views, Gough said. The developer has secured all approvals and permits and is finalizing a financing deal that includes a mix of bank loans and private equity. Investment Property Advisors' specialty is student housing, and it is working on a similar deal near Ball State University in Muncie. Construction on 9 on Canal is expected to take between 14 and 16 months. Leasing is scheduled to begin in the fall, with the building ready for occupancy by May 2014. The architect is Ratio.
Click on either of the new renderings above for a larger version. To see more perspectives of the building in PDF form, click here. An earlier post on the project that includes links to all of IBJ's coverage of 9 on Canal is available here.