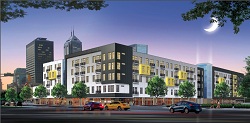 The $30 million redevelopment of the former Bank One Operations Center at 451 E. Market St. now has a name: Artistry. The five-story project by locally based Milhaus Development calls for 258 apartments and up to 68,000 square feet of first-floor commercial space. The first phase is under construction; a second phase would add 200 apartment units. The LEED-certified building would offer a variety of amenities, including valet trash, recycling and laundry. Courtyards would include a fountain, vegetable garden, bocce court and putting green. Other features include an art gallery, theater, cafe, wellness studio and aqua lounge. The first apartments are scheduled to be available in October. Rents will range from about $800 to $1,800. The architect is CSO, and the branding/marketing firm Q7Associates is responsible for the Artistry name, chosen to reflect "an appreciation of the arts and the neighborhood's history of craft and skill." Earlier post is here.
Bonus rendering: The Axis at Block 400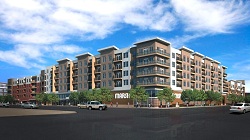 Marsh Supermarkets and Flaherty & Collins Properties broke ground Tuesday on The Axis, a mixed-use project at the corner of Michigan Avenue and Senate Street that calls for more than 400 apartments and a 40,000-square-foot Marsh store, the chain's first new location since 2004. Work has already begun on a 930-space parking garage at Illinois and New York streets to make way for the conversion of the surface parking lots. All told, the project is expected to cost about $85 million. The grocery store is scheduled to open in the spring of 2014. An earlier post is here.