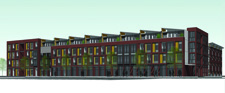 Prolific apartment developer The Whitsett Group is starting on yet another project.

The $28 million Lockerbie North, set to be built on a vacant lot at the northwest corner of North College Avenue and East Michigan Street, calls for 215 market-rate apartments and 9,000 square feet of retail, in addition to a 240-space underground parking garage. (Rendering above)

The retail component will begin at the corner of College and Michigan and run west along Michigan, principal Joe Whitsett said. The developer bought the property in March 2011.

"We really think it's a good time to move forward," he said. "The demand is still so strong for downtown rental housing that we feel very good about it."

Construction should begin by October, Whitsett said. The local developer so far has presented its plans for the project to the Lockerbie Neighborhood Club and still needs to get approval from the Indianapolis Historic Preservation Commission.

Anson Keller of the DkGr architectural firm is the architect on the project.

Meanwhile, The Whitsett Group plans to start by the end of the year on a building to be constructed on The Indianapolis Star's longtime campus at the corner of Delaware and New York streets. Whitsett's plans call for up to 500 apartments in three buildings and retail space that could attract a bank branch or restaurant.

The developer also is partnering with Ambrose Property Group on a $16 million rehab of the former Litho Press building at 800 N. Capitol Ave. that calls for 111 apartments, in addition to redeveloping the American Building at 333 N. Pennsylvania St. into 72 units and the 15-story Consolidated Building at 115 N. Pennsylvania St. into 98 apartments.