The new owners of a pre-Civil War building at 42 E. Washington St. are renovating the historic four-story structure with plans to open a high-end art gallery in October.

Jim and Linda Hunter are demolishing the building's interior and are awaiting state approval before beginning construction. They've already received approval from the city's planning department and Indianapolis Historic Preservation Commission on their plans to revitalize the building.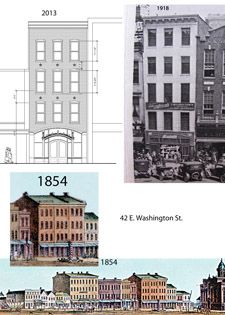 (A sketch of the new design and images of the building through the years are at right.)

The building, one of downtown's oldest surviving structures, will receive a new façade and an arched entry. Interior plans call for removing a portion of the floor separating the first and second levels to create a mezzanine-type entrance that was part of its original design.

The first-floor art gallery will sell museum-quality art pieces that one might find in New York or Miami, Jim Hunter said. An art and entertainment business will be housed on the second level.

Hunter is unsure how much they will invest in the property but described the renovation as a "significant upgrade."

The building has been mostly vacant for years, except for an occasional first-floor retail tenant (most recently a jewelry store). A prior owner of the building attempted to brick over the windows in 2011 before the city issued a stop-work order. The Antonopoulos family ultimately completed a stabilization project before selling the property to the current owners, who live in Johnson County.