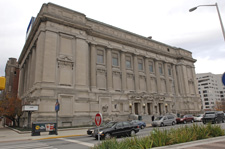 The Old City Hall building quietly turned 100 years old back in 2010. It was vacant then and it's still unoccupied now. But a group of national preservationists wants to help breathe new life into the historic granite-and-limestone landmark.

As part of the Washington, D.C.-based National Trust for Historic Preservation's annual conference, to be held in Indianapolis for the first time, Oct. 29 to Nov. 2, the group plans to explore reuses for the building during a day-long, on-site event.

"Since this building has been without a designated purpose for some time, the goal is to capture some of the great intellect that will be convening in Indianapolis at an unprecedented level, and combine that with our local experts to spend a day in a charrette," Indiana Landmarks President Marsh Davis said.

The building opened in 1910 and housed city offices until the arrival of the City-County Building in 1962. Then, the Indiana State Museum introduced two generations of schoolchildren to its gravitational pendulum, which swung from the 85-foot open rotunda. But in 2002, the Indiana State Museum moved to White River State Park. The building then housed the interim Central Library until 2007.

The first hint of potential redevelopment came in 2009, when Mayor Greg Ballard solicited proposals and received six responses. Three aimed to move crowded local government or economic development offices inside the building. One hoped to establish an international immigration museum, and two proposed a boutique hotel on an adjacent parking lot, possibly connected via an elevated walkway to Old City Hall's north side.

None of the ideas ever came to fruition, though, partly because it's been estimated to take $10 million just to get the building functional. The city did pay for a new roof but is reluctant to provide much financial assistance.

"There's all kinds of interest in the building; how real the interest is is another conversation," said Adam Thies, director of Metropolitan Development "Very few people actually want to pay to make it a useable building."

Part of the problem in making it useable is its design limits. The building's most unique feature is the rotunda, topped with stained glass, which makes for a majestic foyer and a lot of empty space across three upper floors.

"It's clearly an outstanding building of the highest caliber," Davis said. "It's not endangered. It just needs a purpose."

The charrette is by invitation only and is funded by The 1772 Foundation, a Connecticut-based organization whose mission is to preserve the nation's architectural and cultural history.

Speaking of redevelopment, the entity that owns the former GM stamping plant site said Thursday that it has issued requests for proposals to 12 developers in hopes of selling the property and getting it redeveloped.