A local developer got the green light from city officials to build three million-dollar homes on a surface lot south of Massachusetts Avenue in the Chatham Arch neighborhood.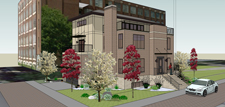 The Indianapolis Historic Preservation Commission approved the plans earlier this month from Dan Jacobs, who expects to break ground on the first house in the spring.

The vertical-style homes will be wider than a typical row house and will range in height from three to four stories with a loft level and a rooftop patio. Options include an elevator and state-of-the-art technology.

Jacobs bought the lot at the northeast corner of East North Street and North Park Avenue in May from an entity called North Lockerbie LLC.

Jacobs said he wants to provide an "urban living experience" by restoring the property to its original use, which was residential.

"This speaks volumes for the neighborhood," he said. "There's so much investment going on around me, this is just a small addition to the investment that's been done by developers around the city."

Jacobs' portfolio includes several retail projects, as well as a few residential developments.

Rob Creviston is the architect on the current project with design consulting from Janie Jacobs, an interior designer and a partner at Jacobs Schneider Interior Design.