Plans for a proposed $5 million redevelopment of the former Central State Hospital campus show a mix of uses, including student housing, event space, office and industrial space and even the possibility of a brewery.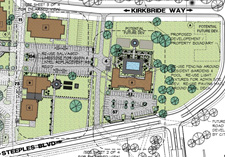 The city's Metropolitan Development Commission is considering whether to rezone 115 acres on West Washington Street to allow for the redevelopment. The commission continued the request Wednesday until Nov. 20 to gather more information.

Local developer Reverie Estates is floating the plan to convert four historic buildings at what's now known as Central Greens. With the exception of the Indiana Medical History Museum, none of Central State's buildings has been renovated so far.

Reverie President Chris Piazza declined to offer many specifics because he is still in negotiations and hasn't signed a contract. But, he said, "We do have an interest in the site and hope to move forward with the development if negotiations go well."

Piazza plans to finance much of the project with a $3 million loan from the Local Initiatives Support Corp. LISC Executive Director Bill Taft said he's already received approval from the not-for-profit's credit committee to make the loan.

The administration building would re-used for student housing (A on the site plan key), the men's recreation building would be converted to an event center (B), the carpentry shop would be redeveloped into office and industrial space (C), and the kitchen and dining building would become a brewery (D), according to the plans.

There already is activity at Central Greens. Ground was broken in August on Christel House Academy West, a charter school being built on about nine acres donated by the city. And local developer Pedcor completed the 144-unit The Steeples on Washington in December.