• Twenty Two Mobile Juicery & Smoothie Bar plans to open Dec. 2 in City Market. Twenty Two, operated by Ross and Leslie Hanna of Fishers, is an all organic and mobile juicery/smoothie bar that started in August from a restored 1964 Shasta Airflyte travel trailer. With the move to City Market, they'll be expanding the menu to include more cold-pressed juices, acai bowls and coffee.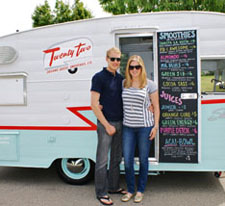 Twenty Two will take the space vacated by Natural Born Juicers, near the main entrance off of Delaware and Market streets.

• Dickey's Barbecue, a Dallas-based barbecue franchise with more than 300 locations in 40 states, is opening its first Indianapolis-area location, in Plainfield. The restaurant is set to open Oct. 24 at 2551 E. Main St., Suite 100, at the Shops at Metropolis and is operated by Bruce and Patty Hazelgrove.

Dickey's offers signature meats, which are slow smoked onsite at each restaurant, in addition to home-style sides and tangy barbecue sauce.

• Chipotle Mexican Grill has filed plans to open at 1002 Broad Ripple Ave. where a United Package Liquor store was formerly located. It's been demolished by local developer LOR Corp. to make way for a three-story building with first-floor retail and two floors of office space just north of Broad Ripple Avenue, sandwiched between Winthrop Avenue and the Monon Trail.

• Blaze Pizza, a Pasadena, Calif.-based pizza franchise, has filed plans to open in 2,200 square feet at 913 Indiana Ave. near the IUPUI campus. Blaze Pizza uses an interactive ordering format that lets customers choose their toppings as they walk down the line. The pizzas are then sent to an open-flame oven where the thin-crust pies are baked in less than 3 minutes.

• India Bistro plans to open in 1,900 square feet at 130 N. Perry Road in Plainfield, in space formerly occupied by a Check Into Cash store.

• Lucy's Hot Dogs and Fries plans to open in 900 square feet at 6144 W. 25th St. in Speedway, in space formerly occupied by a check-cashing service.

• LA Biotique, an eyebrow-threading spa based in Oak Brook, Ill., is coming to The Fashion Mall and will occupy about 900 square feet.

• Greek's Pizza at 15 N. Pennsylvania Street downtown is closed for remodeling, a sign on the door says. But the phone number is disconnected and the location is not listed on its website.

• Frullati Cafe & Bakery in Circle Centre mall has closed. The closing follows a lawsuit filed by Simon Property Group Inc. in an effort to collect about $23,000 in overdue rent.