One of Chicago's best-known pizzerias is coming to Indianapolis and taking the space formerly occupied by an upscale Italian restaurant on the city's northeast side.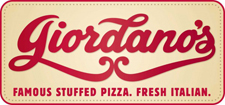 Giordano's has signed a lease to occupy the 4,000 square feet at 4110 E. 82nd St. in the renovated Rivers Edge shopping center where Sangiovese Ristorante has long been located, according to information submitted to IBJ by Indy-based Sitehawk Retail Real Estate.

Local restaurateur Gino Pizzi, who owns Ambrosia in Broad Ripple, founded Sangiovese in 1994 and sold it to Chris Evans in 2007, according to the restaurant's website.

Sangiovese declined to renew its lease, according to a source familiar with the deal, and is searching for new space. Evans could not immediately be reached for comment. It is not clear when the restaurant will close.

Rivers Edge owner Kite Realty Group Trust renovated the shopping center and landed popular anchors Nordstrom Rack and The Container Store in 2011.

The Rivers Edge location will be Giordano's first in Indiana and among just a handful outside of the Chicago area. It has 41 restaurants in the Windy City and neighboring suburbs, and three in Florida.

Giordano's has been recognized as "Chicago's Best Pizza" by the Chicago Tribune, New York Times, CBS and NBC, according to its website.

Known for its signature stuffed pies, Giordano's also serves thin-crust pizzas, appetizers, salads, sandwiches and Italian dishes.

Brothers Efren and Joseph Boglio moved to Chicago from Italy to start their own pizza business, opening their first store in 1974 on the city's south side using their mother's recipe for stuffed pizza.

In other restaurant news:

— The Tamale Place is set to open June 7 in 2,600 square feet at 1155 E. Stop 11 Road, Suite D, on the city's south side. The restaurant opened early this year at City Market. Its original location at 5226 Rockville Road was featured in season 12 of Guy Fieri's "Diners, Drive-Ins and Dives television show.

— The Dawg House Dueling Piano Bar has leased 4,800 square feet on the ground floor of 6235 N. Guilford Ave. The building in Broad Ripple in recent years housed the Tru nightclub and Buffalo Wild Wings Grill & Bar. Monon Housing Partners LLC in April bought the building known as Mustard Hall near the southeast corner of Broad Ripple and Guilford avenues.