It's looking like construction on Flaherty & Collins Properties' massive Market Square project won't start until at least October.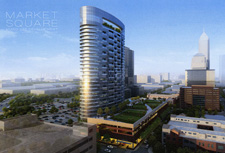 The local developer received a big boost in March when the Indianapolis City-County Council voted 18-9 to provide up to $23 million in city financing for the $81 million, 28-story apartment tower, to be built on part of the former Market Square Arena site.

And in May, Flaherty & Collins received more good news, when specialty grocery chain Whole Foods agreed to anchor the 300-unit project by taking 40,000 square feet at the building's base.

But getting a commitment from Whole Foods took longer than expected, CEO David Flaherty said, helping to push back the start date from summer to fall.

"The tower is so intricate from an architectural perspective, it has taken longer to get the plans to this point," he said. "We've gone as fast as we could, but yes, it's taken longer than what we would like."

The project's architect is the Chicago office of Baltimore-based RTKL Associates Inc.

Flaherty & Collins, however, actually has another hurdle to clear. The city's Regional Center Hearing Examiner is set to consider the development's design Thursday morning.

Because the site is within the Regional Center overlay district, the project needs to comply with Regional Center Urban Design guidelines and requires initial approval by the city's hearing examiner.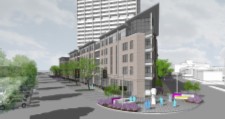 Here's an update on the progress of a few other downtown mixed-use projects:

• Insight Development Corp., the development arm of the Indianapolis Housing Agency, is set to start construction "any day now" on the second phase of its Millikan on Mass project, said Bruce Baird, president of Insight.

Insight held a groundbreaking ceremony in late June and had hoped to get moving within the next month, but financing and building-permit approval took longer than expected, Baird said.

The developer is constructing the $25.4 million Millikan on Mass in two phases across from the Athenaeum at the intersection of Massachusetts Avenue and Michigan Street.

• Milhaus Development LLC's design for a project at another major intersection of Massachusetts Avenue received approval Tuesday from the Indianapolis Historic Preservation Commission.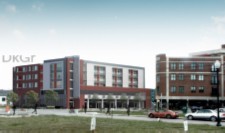 Plans call for 42 apartments, 8,000 square feet of retail and 55 parking spaces on what's now a parking lot at the southeast corner of College Avenue and East St. Clair Street, where Mass Ave. intersects the streets.

Milhaus added more brick to the building, moved the garage entry from St. Clair to Walnut Street, and extended the retail piece from College to St. Clair.

Construction could start late this year or early next year, Milhaus president Jeremy Stephenson, said.

"Clearly the market's there," he said. "We want to get going on it as soon as we possibly can."