The metro area's grocery market is about to get even more competitive with four stores, a Walmart Neighborhood Market and three Aldi locations, set to open in October.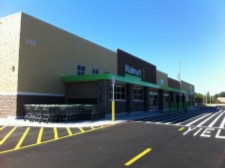 The Walmart at 5550 Fall Creek Parkway near East 56th Street will welcome its first shoppers on Wednesday, and the Aldi at 9989 E. Washington St. in Cherry Tree Plaza will do so Oct. 10.

Douglas Realty developed the 42,000-square-foot Walmart. It replaces a 130,000-square-foot shopping center once anchored by an O'Malia's grocery store but had just one tenant remaining, a Dollar General store, before it was demolished.

"This area was once very successful when O'Malia's was there," Douglas Realty principal Doug McAuley said. "There's really a grocery void on that side of town."

The redevelopment also includes about 14,000 square feet of small-shop space. Douglas Realty so far has attracted tenant commitments for about half of it, McAuley said.

The store will be Bentonville, Arkansas-based Wal-Mart's sixth Neighborhood Market in the Indianapolis metropolitan area.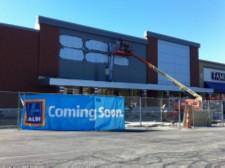 Meanwhile, a new Aldi store is part of Sandor's redevelopment of Cherry Tree Plaza on the far-east side of the city.

The 22,462-square-foot store is taking space formerly occupied by K&G Menswear.

Sandor began developing the shopping center in 1978 and started an extensive redevelopment of the property in 2008. Besides Aldi, the renovated Cherry Tree Plaza has attracted national retailers LA Fitness and Foot Locker.

Two more Aldi stores also are set to open Oct. 10—one at 300 South State Road 135 in Greenwood and another at 16971 Clover Road in Noblesville. The Hamilton County store is reopening following a complete remodel.

The Batavia, Illinois-based grocery chain will have 17 stores in the Indianapolis area.