Add another to the explosion of microbreweries, but this one in Carmel lets you enjoy a glass of its specialty suds while taking in a movie.

• Flix Brewhouse in Carmel is set to open Thursday with the premiere of "Avengers: Age of Ultron." The Texas-based company's combination cinema-microbrewery is located in the Merchants Square shopping center at 116th Street and Keystone Parkway. Flix is occupying almost 40,000 square feet in space that previously housed a Hobby Lobby store, with eight screens offering seating for about 1,000 people total.

A rundown of its beer list: Saison de Walt, Satellite Red Ale, Lupulus IPA, Luna Rosa Wit, Flix Golden Ale, 10 Day Scottish Ale and Beer of the Dead.

• Nourish Innovative Local Cuisine & Cocktails at 931 S. East St. should open within the next few weeks, according to general manger Gwen Hasse. The locally owned restaurant is located near the Eli Lilly and Co. campus next to Bosphorus Istanbul Café.

Concetta Mascari will be the chef, and Amy Sawyer will be head bartender

• Hyde Park Prime Steakhouse is coming to downtown Indianapolis and will join Giordano's pizzeria in the Illinois Building.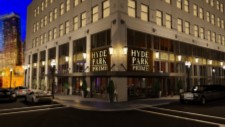 Building owner Keystone Realty Group announced Monday that the Cleveland-based steakhouse has agreed to occupy 8,000 square feet in the building's corner space at Illinois and Market streets.

The 200-seat restaurant plans to open early next year. Founded in 1988, Hyde Park operates 16 high-end steak and seafood restaurants in Ohio, Pennsylvania, Michigan and Florida.

• Zaxby's is expanding its presence in the Indianapolis area by opening a second restaurant, in Greenwood. The location at 1274 N. Emerson Ave. will begin serving patrons in September and will be operated by franchisee Jeff Furlin, who plans to open three more in Johnson County.

The Georgia-based fast-casual chain that offers chicken wings, chicken fingers, sandwiches and salads arrived in Indianapolis in November. The restaurant at 8810 Wesleyan Road on the northwest side is operated by Jerry Ayres Jr. and Todd Ayres. They plan to open eight more Zaxby outposts in the next seven years.

• Fine Estate Art & Rugs and Gallery Two reopened April 21 at 200 S. Rangeline Road in Carmel's Indiana Design Center.

Curt Churchman had operated the businesses for years at 5914 N. College Ave. in Broad Ripple, next to Binkley's Kitchen & Bar, before closing them in early January. He planned to reopen in a building he had agreed to buy at 4186 N. Broadway St. to the south, contingent upon his receiving a zoning variance. A city zoning appeals board rejected the request.

• Cold Stone Creamery is coming to 840 Broad Ripple Ave. in the space formerly occupied by a La Bamba burrito joint. Cold Stone will take 1,600 square feet, according to a construction filing. The Scottsdale, Arizona-based ice cream chain has three Indianapolis locations.

• Flamme Burger has leased 2,764 square feet at The Depot at Nickelplate, 8594 E. 116th St., in Fishers.

• Heidi Pops Gourmet Popcorn is opening at 13901 Town Center Blvd. in Hamilton Town Center in Noblesville.