Here's a look at King Park Development Corp.'s planned $8 million project in the Fall Creek Place neighborhood, which received zoning approval from the city last week. (See IBJ story here).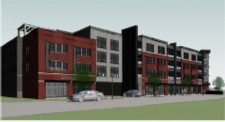 The not-for-profit owns the nearly one-acre parcel on the northeast corner of East 22nd and Delaware streets and has brought Bloomington-based Cedarview Management Corp. on board to develop the complex.

The architect on the project is locally based Studio 3 Design Inc.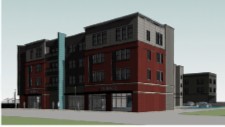 Cedarview received approval July 23 from the city to rezone the property to build the four-story project, which would include nearly 9,000 square feet of retail and a 54-space parking garage.

Construction on the yet-to-be-named project could start in the fall and finish by August 2016.