Wednesday's announcement that Save-A-Lot has committed to building a grocery store on the city's east side could be the catalyst to spark more development in an area showing signs of a rebound.

If all goes as planned, construction on the store could begin in November and finish in July, said Amandula Anderson, executive director of the United Northeast Community Development Corp.

The Avondale Meadows neighborhood, officially deemed a food desert, has been without a grocery since Cub Foods left in the late 1990s.

Save-A-Lot's 16,000-square-foot store to be built at the intersection of East 38th and North Oxford streets would be part of a larger, 40,000-square-foot development including space for two 12,000-square-foot outlets.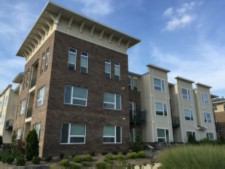 United Northeast is in discussions with a retailer to fill one of the two spaces, said Anderson, hoping the Save-A-Lot announcement will spur additional interest.

Attracting retail to the neighborhood has been a difficult task.

"The one piece missing, which is one of the hardest pieces, is the retail piece," she said.

But more residents moving into the area could change that.

A ceremonial groundbreaking set for Friday officially launches an $11 million project to convert a vacant industrial building on East 38th Street near Fall Creek Parkway into 49 affordable and market-rate units.

Local affordable housing developer BWI LLC is spearheading the project dubbed The Overlook at the Fairgrounds.

It follows the fully occupied and 248-unit East Village at Avondale apartments (see photo above), which is farther east, where the crime-ridden Meadows complex once stood.

Adding a second phase to East Village is on United Northeast's wish list, along with acquiring the nearby and troubled Phoenix public housing complex.

The city has secured a $12.5 million loan from the U.S. Department of Housing and Urban Development to buy the property from the Connecticut-based owner. The loan would be transferred to the not-for-profit Meadows Community Foundation, which would demolish the Phoenix and build a mixed-income complex.

But prying the Phoenix away from current ownership has proven difficult.

"We haven't given up," the ever-upbeat Anderson said.