The city's Metropolitan Development Commission is set Wednesday to consider a rezoning request that would pave the way for construction of a controversial senior living center on the city's north side.

St. Louis-based Stonecrest Senior Living and suburban Kansas City-based Northpoint Development filed with the city in August to construct the 85-unit facility on 4.8 acres of wooded wetlands at the southeast corner of East 86th and North Meridian streets.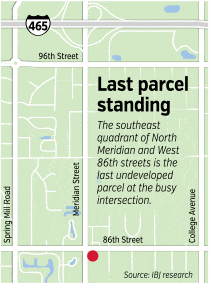 The location is significant because it's the last available parcel at one of the north side's most heavily traveled intersections.

Residents in the area fiercely oppose the project and claim that existing drainage problems would only worsen with the building of such a large development. (Click here to see elevation renderings of the project.)

Even in dry periods, the land is typically swampy from past rains, and building on the site could dump stormwater runoff into the residences to the south, neighbors say, unless drainage is configured properly.

Besides drainage problems plaguing the property, neighbors are concerned about tree preservation, lighting and access to the site. Medians on 86th and Meridian streets would limit it to only right turns in and out of the complex.

The site already is zoned for residential use, and an assisted-living facility fits the use. The rezoning would allow for more units per acre.

Neighbors prefer a residential development that's more compatible with the condominiums and town homes on the other three corners of the intersection, Ruth Hayes, president of the Nora-Northside Community Council, told IBJ in September.

The council voted earlier this month to reject the assisted living and memory care facility. The vote is non-binding but provides guidance for MDC.