The retail landscape along East 82nd Street continues to shift:

• Perkins Restaurant & Bakery in Castleton is set to close Sunday and will be demolished to make way for a retail strip center.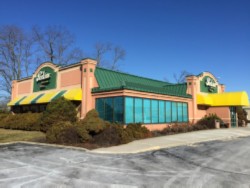 The 10,000-square-foot center will be built at the northeast corner of Allisonville Road and East 82nd Street—one of the more high-profile intersections in the city—by Indianapolis-based Kite Realty Group.

Kite, Perkins' landlord, declined to renew the Memphis, Tennessee-based chain's lease, said Steve Delaney of CBRE Sitehawk, who represents Perkins.

He said Perkins is searching for another location in the area. The outpost is the chain's only one in Indianapolis. It has two in Noblesville—on Indiana 37 and in Hamilton Town Center.

Kite declined to comment on its plans to demolish the Perkins building. But in a company filing, Kite lists the "creation of new outparcel small shop building" in Castleton Crossing.

The retail developer in May 2013 bought the 280,000-square-foot Castleton Crossing shopping center for $39 million. The center is fully leased and anchored by TJ Maxx HomeGoods, Burlington Coat Factory and Shoe Carnival.

Founded in 1958, Perkins still counts more than 400 company-owned and franchised locations in the U.S. and Canada.

• Also on East 82nd Street, the Don Pablo's in the Clearwater Crossing shopping center has closed. A sign on the door directs patrons to its two remaining locations—on South U.S. 31 in Indianapolis and North U.S. 31 in Carmel.

• In Castleton Square Mall, Champs Sports is opening in space between Justice and Charlotte Russe. The West Bradenton, Florida-based athletic apparel and footwear chain has local stores in the Greenwood Park, Lafayette Square and Washington Square malls.