A small but highly visible parcel on the block that is set to be developed at Massachusetts and College avenues might not actually be included in a project.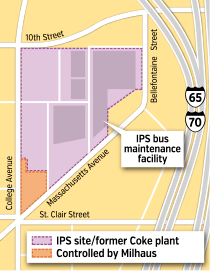 Indianapolis Public Schools received six bids from five developers in its effort to sell the 11-acre site that houses the school system's bus maintenance operations center in the historic Coca-Cola bottling plant.

But a sliver of land that touches Massachusetts and College avenues near where they intersect with St. Clair Street is not owned by IPS but by a private entity called DAJ Realty Co., according to property records.

DAJ Realty Co. is an investor in Milhaus Development LLC, one of the bidders for the IPS site.

At a Tuesday public hearing conducted by the IPS board, Milhaus President Jeremy Stephenson told board members that "we have control over the corner parcel as well" when discussing the developer's land holdings in the area.

Milhaus, along with Ratio Architects, submitted two proposals to redevelop the IPS property. Others bidding on the site are Hendricks Commercial Properties, Mass Ave Partners (a partnership of Strategic Capital Partners and Schmidt Associates), and the team of Browning Investments and Flaherty & Collins Properties.

Hageman Group also submitted a bid, but it's been eliminated from consideration because the firm's $2.1 million offer for the land did not meet specifications. A committee created by IPS is set to make a recommendation March 17 to the school board, which then could vote to pursue one of the bids.

One of the committee members, Abbe Hohmann of Site Strategies Advisory LLC, doesn't think the parcel controlled by Milhaus will have an impact on the overall development of the IPS site.

"It hasn't really entered into our discussions," she said. "It's certainly not going to drive a decision."

A site plan included in the proposal from Browning and Flaherty & Collins shows the Milhaus-controlled property "to be developed by others." And Mass Ave Partners' site plan simply shows the parcel as undeveloped.

But in its bid package, which features a 132-room hotel, Hendricks addresses the property. The company says "Hendricks acknowledges that the lot featuring the proposed hotel is not included in this proposal. We are in talks with the owner and will make the necessary adjustments if an agreement isn't reached."
However, Stephenson, the Milhaus president, said, "No one has approached us about getting control of the corner parcel."
"We all realize the key development aspects of this property, that it needs to hold the corner to the benefit of the Chatham Arch area plan and overall preservation of the historic buildings," he said. "We believe in the value of the College and Mass Ave corner not only for the benefit of the plan, but our control of this parcel reduces the contingencies needed to bring our overall plan to fruition."
To view all of the proposals, click here.