On the heels of Crackers' move to 207 N. Delaware St. comes a comedy club in Fountain Square.

• Chubby's Comedy Club is set to open April 1 at 1026 Virginia Ave. in Fountain Square in the space formerly occupied by Cultured Swirl frozen yogurt shop.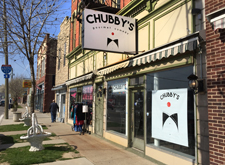 Shows at 7 p.m. and 9:30 p.m. kick off opening night, though the early slot is sold out, according to the club's Facebook page.

Professional comedian Brad Wenzel, known for his offbeat, one-liner comedy, will help christen the club.

• 8th Day Distillery plans to occupy about 6,000 square feet in the complex at 1125 E. Brookside Ave., according to a construction filing. Larry Jones of Teagen Development Inc., which is redeveloping the building, said the distillery should be open in June.

8th Day would join Centerpoint Brewing at the complex.

• Ramen restaurant Kizuki Ramen & Izakaya is slated to begin serving customers April 1 at 2450 E. 146th St. in the Cool Creek Commons shopping center in Carmel.

Based in Tokyo, Kizuki first expanded outside Japan in December 2012, to Bellevue, Washington. The chain has two locations in Washington—the other in the Northgate neighborhood of Seattle—in addition to one in Beaverton, Oregon, and another in Chicago.

• Zip City USA, an indoor zip line, trampoline and rock wall entertainment complex, appears to be opening in June at Indy Indoor Sports Park, 6650 S. Bluff Road, on the city's south side.

A large truck parked outside the complex is advertising the opening date. Zip City has locations in Cincinnati and Cleveland.

• Church's Chicken has built a stand-alone restaurant and is open at 7224 W. 10th St. on the city's west side near Interstate 465.

The location is operated by J&A Restaurant Holdings Inc., which is the franchisee for all 10 of the Atlanta-based chain's Indianapolis outposts.

Closings:

• Greek's Pizzeria at 8028 S. Emerson Ave. on the south side has closed. The chain's website lists a new location coming to 71st Street and Binford Boulevard on the city's northeast side.

• In case you missed it Wednesday, Georgia Reese's Southern Table & Bar at 3454 W. 86th St. stopped serving customers on Sunday. The downtown location remains open.