The city of Indianapolis is taking a big step in attempting to finally attract development to the sprawling RCA site on the east side.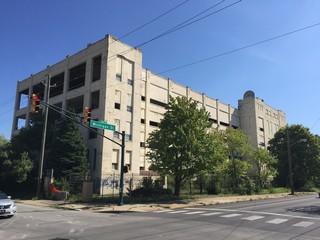 The last building standing on the nearly vacant 49-acre parcel northwest of Sherman Drive and East Michigan Street could be torn down soon, now that the city has put out a bid to demolish the structure at 3324 E. Michigan St.

Built in 1921, according to real estate records, the four-story, 106,368-square-foot structure at the northeast corner of Michigan and LaSalle streets housed RCA's headquarters.

The bid date is Sept. 8, with a cost range of between $400,000 and $450,000, city documents show. A pre-bid conference and walk-through will be held onsite at 9 a.m. Aug. 30.

"The demolition is a pre-redevelopment activity providing a clean slate for the park to undergo a comprehensive planning effort with the community and stakeholders," Lindsey Richardt, spokeswoman for the Department of Metropolitan Development, wrote in an e-mail. "Following demolition, a proper evaluation and assessment of the park will be conducted prior to any redevelopment efforts taking place."

A re-use committee has been formed to explore opportunities once redevelopment conversations begin, Richardt said. East-side community groups have said in the past that a light industrial use might make the most sense, since there's a rail line running through the middle of the complex.

The property reverted back to the city after two groups led by Bloomington investor Peter Dvorak couldn't secure financing for improvements. A lack of new tenants meant rent payments were not sufficient to cover debt service and property taxes. The parcels ended up in a September 2013 tax sale, where no one stepped forward to pay the $901,000 in back taxes.

"Our timing obviously was terrible," Dvorak told IBJ in September 2013. "We acquired it right at the beginning of the Great Recession, and we were not able to get the financing needed to make it work. That was kind of like the kiss of death."

The property originally was developed in the 1920s as the local operations complex for RCA and featured a 750,000-square-foot plant that was torn down in the last few years. RCA was acquired by General Electric Co. in 1986. A year later, GE sold the former RCA to Thomson Consumer Electronics, now Thomson Multimedia.

At its peak in the 1950s, the plant employed 8,200 people, many of them producing TV components. But Thomson, which owns the RCA brand, sent those jobs to Mexico over the years. In 1994, the company moved its headquarters from the Indianapolis plant to Carmel.