Another restaurant is taking the space on Massachusetts Avenue last occupied by foodie haven R bistro.

Rooster's Kitchen, featuring American home-style favorites in a casual setting, is expecting to open in October at 888 Massachusetts Ave. (see accompanying image), owner Ross Katz said.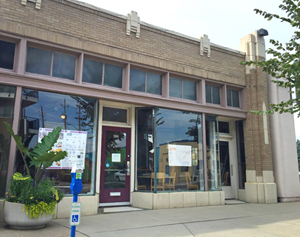 "The food I'm going with, I'd like to say, is home-style inspired," said Katz, 32. "They are recipes I got from my youth—favorites from childhood growing up in Chicago. It's really just casual, hearty food that goes great with craft beer."

A menu and prices have not been finalized yet. But Katz said Rooster's will cure its own bacon, slow roast its turkey breast and slow braise its brisket in onions, celery and carrots.

"Everybody loves bacon," he said. "We're really going to hang our hat on that."

For Katz, a veteran of the restaurant industry, Rooster's represents his first attempt as an operator.

He began working at a pizza parlor at the age of 13, ascending from busboy to general manager. He arrived in Indianapolis in 2009 to take the general manager's job at the downtown RAM Restaurant & Brewery. And from 2014 to January 2016, Katz was retail operations manager at Sun King Brewing Co.

"Being at Sun King inspired me to go out and do my own thing," he said.

R bistro, which helped fuel Indianapolis' homegrown restaurant boom, closed in late February. Executive chef Regina Mehallick and her husband/co-owner Jim Mehallick had operated R bistro for nearly 15 years. R2Go, the affiliated specialty market that opened in late 2014 at 1101 N. College Ave., is still operating.

A few updates of previous roundup items:

• Salt on Mass, a fresh high-end seafood restaurant, opened Aug. 23 at 505 Massachusetts Ave. in the Millikan on Mass apartment project.

• Rebar Indy opened Aug. 31 in the former Legal Beagle space at 20 N. Delaware St. The bar and restaurant features a 20-tap beer wall allowing patrons to pour their own suds using a pre-loaded card.

• Jack's Donuts is open at 135 W. Market St. in the space formerly occupied by a Noble Roman's pizzeria.

• Ruth's Chris Steakhouse at 45 S. Illinois St. closed Sept. 1 and is set to reopen Sept. 23 following a $2.3 million renovation.