Frona Mae Dessert Cafe has closed less than a year after it launched at 38 E. Washington St.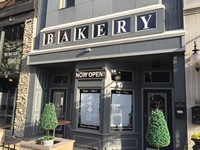 The cafe opened Nov. 2 in the space formerly occupied by Libertine Liquor Bar, which moved into the same building with Pizzology at 608 Massachusetts Ave.
Frona Mae featured house-made desserts, artisan tea and coffee, wine pairings and lunch specials.
In a note to customers posted on the front door, owner Doug Huntley says he hopes to open again soon at another location.
"I am so deeply sorry that we are now closed and unable to serve you our wonderful made-from-scratch desserts," Huntley wrote. "We truly loved being part of this vibrant neighborhood."
Also downtown:
Punch Bowl Social will officially open Saturday in 23,000 square feet of former Nordstrom space in Circle Centre mall, although a soft opening for friends and family already is under way.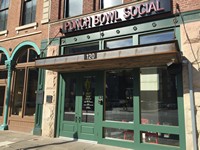 The Denver-based entertainment venue will include eight bowling lanes, two bocce courts, three private karaoke rooms, three bars and several other lounging and gathering spots. The venue is located near the northwest corner of George and South Meridian streets, and will have entranced on both streets.
Punch Bowl's menu, created by celebrity chef Hugh Acheson, features pimento cheese, confit St. Louis ribs and a nitrate-free Fra' Mani fried Bologna sandwich.
A $10 cover charge on Saturday benefits the Simon Youth Foundation.
Property Lines first reported Punch Bowl Social's interest in the mall space in September 2015.