There's plenty to report on the local restaurant and retail front.
To start, here's a trio of Broad Ripple openings: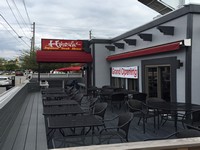 • Hibachi Bar Japanese Steak House is open at 921 Broad Ripple Ave., in the space last occupied by Sabbatical, which closed in July 2015.
Dishes range from the $16 chicken hibachi to the $35 steak and lobster hibachi.
• In related news, Watami Sushi is opening at 1912 Broad Ripple Ave., in the former H2O Sushi spot.
• Fira Boutique is opening at 918 Broad Ripple Avenue, where Lucky B Boutique was located.
This will be the second location for Fira, a women's clothing store, which launched in 2013 in Urbana, Illinois.
Meanwhile, in Hamilton County:
• Rita's Italian Ice is slated to open its first store in Indiana, on Oct. 6, at 8910 E. 96th St. in the Lantern Crossing Shopping Plaza in Fishers.
The 1,600-square-foot location is the first of four planned for the metro area by former Indianapolis Colts player Donald Thomas and his wife, Quita. The store will be open from noon to 10 p.m. daily.
Based in Bensalem, Pennsylvania, Rita's has more than 600 stores and bills itself as the world's-largest Italian ice company.
• 18/8 Fine Men's Salon is coming to Clay Terrace this fall, marking the Irvine, California-based company's first foray in Indiana. 18/8 has 70 locations across the country and offers haircuts, face and nail treatments, shaves, waxing and coloring services.
Elsewhere:
• Primanti Bros. is hosting a pre-opening party Oct. 11 for its Circle Centre mall location. The Pittsburgh-based sandwich chain announced early this year that it would take the space formerly occupied by California Pizza Kitchen.
Primanti, known for sandwiches featuring coleslaw and French fries, has an existing location at 13871 Cabela Parkway near Cabela's in Noblesville. Outposts at 5221 Noggle Way on the south side, near Interstate 465 and County Line Road, and at 9646 E. U.S. 36 in Avon near a Walmart Supercenter are expected to open in 2017, according to its website.
• Metro Diner is set to open Oct. 18 at 7225 U.S. 31 South in an outlot building in front of a Walmart Supercenter south of Southport Road.
The Jacksonville, Fla.-based breakfast chain opened its first Indianapolis location in May, at 3954 E. 82nd St. in Clearwater Crossing, and is set to add another, in the new parking garage at Butler University.

• The Golden Corral at 7920 N. Shadeland Ave. has closed. The Raleigh, North Carolina-based based restaurant chain has two remaining locations in the city, at 10220 E. Washington St. and 6102 W. 38th St., in addition to one in Greenwood and another in Plainfield.