A Mexican restaurant in Castleton will move before its building is demolished next month to make way for a new retail development housing Starbucks and Qdoba outposts.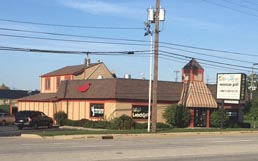 Los Cabos will move a stone's throw away to make way for the new project. (IBJ Photo/Jeff Newman)
Los Cabos Mexican Grill at 6714 E. 82nd St. between Castleton Square Mall and Interstate 69 will relocate to space in the Metroplex Shopping Center behind the restaurant's current location.
Prompting the move is the purchase of the Los Cabos building by Topsey LLC, a group comprised of local retail broker Mark Perlstein and partners.
Perlstein of CBRE, which bought Sitehawk Retail Real Estate last November, put the deal together to acquire the land. It's the only retail property he will have developed.
"This was just a unique opportunity with two really good tenants," he said of Starbucks and Qdoba. Perlstein declined to reveal the cost of the project.
Those familiar with the Castleton area will know that a Starbucks already exists, adjacent to Los Cabos to the west. Starbucks will vacate its building at 6706 E. 82nd St. in favor of the new retail project.
Starbucks is making the move because the new location will allow for more parking and better drive-thru flow, Perlstein said. Motorists waiting in line now routinely find themselves sitting on East 82nd Street during the morning rush due to backups in the drive-thru line.
Both the Starbucks and Qdoba will be corporate-owned stores. The building will be 5,100 square feet, with Qdoba taking 3,200 square feet and Starbucks 1,900 square feet. Outdoor seating will be available at both.
In addition, the city has acquired land in front of the property where the building will be constructed and will be installing bicycle paths and replacing sidewalks.
"It will be a complete upgrade for the area," Perlstein said.
Both Starbucks and Qdoba should open next spring.