Supporters of the historic Rivoli Theatre on East 10th Street have hit an important milestone for stabilizing the fragile structure.
The building's owner, the Rivoli Center for the Performing Arts, announced Monday that it thinks the group has raised enough money to finish installing a new roof.
The not-for-profit received $300,000 through a community development block grant, pushing the total raised to more than $500,000.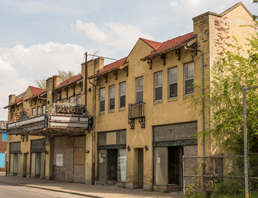 The theater at 3155 E. 10th St. has been in such poor shape that it twice appeared on Indiana Landmarks' list of the state's "10 Most Endangered" places. (IBJ file photo)
Jim Kelly, the group's president, told Property Lines in an e-mail that members "have fingers crossed hoping this will be enough."
They plan soon to release the bid package to get estimates from contractors. If all goes well, they hope the entire roof project will be finished by next fall.
It's been a monumental undertaking to get a roof installed—the first step in saving the building that opened in 1927 as Universal Studios' first Indiana theater.
The Rivoli Center for the Performing Arts put a new roof over the auditorium portion of the building in May 2014 and will spend a total of nearly $1 million to complete the roof repairs.
Supporters still have a long way to go to restore the building to its former splendor, however. Kelly estimates it will take $7 million to $14 million, depending on whether they're able to add onto the theater and build out other areas. One of the most visible improvements would be restoring the marquee.
The goal is to rehab the Rivoli into a performing arts theater and build a separate arts and education center.
The Rivoli, at 3155 E. 10th Street, is in such poor shape that it's twice appeared on Indiana Landmarks' list of "10 Most Endangered" places.
If the roof isn't entirely replaced, exposure to the elements will eventually destabilize the walls and lead to even worse damage.
The Rivoli's decline as a theater coincided with the popularity of suburban multiplexes. In the 1970s, it enjoyed a resurgence hosting musical acts, including Bruce Springsteen, Linda Ronstadt and Lynyrd Skynyrd, before sinking into adult films.
Former owner Charles R. Chulchian, who bought the theater in 1976, closed its doors in 1992. In 2007, he gave the building to the Rivoli Center for the Performing Arts—formed four years earlier to buy the building—while retaining a partial interest.
"The Rivoli has been empty for decades and, in its current state, it is an eyesore," according to the not-for-profit group. "But tearing down the Rivoli has never been an option for us. It's not part of the plan."