The Vine & Table wine and gourmet food shop is moving forward with plans to open at a busy north-side intersection after receiving approval from a city zoning board.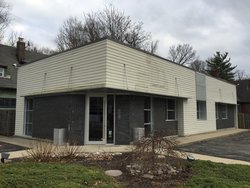 Vine & Table opened in Carmel in 2007 and was founded by Joe Husar, the owner of Kahn's Catering and meeting hall Montage at Allison Pointe. He sold the store last year to Big Red Liquors, which is pursuing the expansion.
Big Red is hoping to open the second store in May, after renovating the 2,000-square-foot, one-story building (right) at the southeast corner of College Avenue and Kessler Boulevard. It last housed the Broad Ripple Animal Wellness Center.
"What you're going to see at the new location is a real focus on a concierge-style approach to service," Big Red CEO Don Rix told Property Lines. "There's a little bit of a void for a true specialty wine store. The service will be second to none."
A city zoning board on Feb. 14 voted 4-1 in favor of granting Big Red a variance to open a wine shop at the north-side location, despite a recommendation to deny the request from city zoning staff.
Staff argued at the meeting that a liquor store shouldn't be located so close to a protected district, the Meridian-Kessler neighborhood, and that the enclave's master plan advises against an overreliance on alcohol outlets in the area.
But Nick Colby, president of the Meridian-Kessler Neighborhood Association, countered that its board voted in support of Vine & Table.
"We didn't want to become a bar-and-nightclub neighborhood," he said of the master plan's language. "But we didn't view this petition any different than a restaurant. In fact, it probably will have a lower impact on neighbors."
Local developer PK Partners in August 2015 paid $628,800 for the building, according to county assessor records. Big Red will lease the space.

Across College Avenue, on the former AT&T property, Milhaus Development LLC is planning to build a $23 million apartment and retail project featuring 100 units and 9,200 square feet of street-level retail space.
Big Red, meanwhile, will consider more opportunities to expand the Vine & Table brand, Rix said.
Big Red operates 57 stores in Indiana, including 34 in the metropolitan area. The company, founded in Bloomington, expanded into the Indianapolis market in 2013 by acquiring the assets of United Package Liquors Inc. and moved its headquarters to the city.