If you got here while looking for the story "Crean borrows from playbook of Knight's pal to brighten IU's tourney outlook," we're sorry you were directed to the wrong link. Click here to find that story.
The Indiana Pacers got a big bounce when NBA owners in February voted to double the size of the areas in which teams are allowed to market to a 150-mile radius.
Sports business experts said the change could net teams like the Pacers an additional low- to mid-seven figure sum annually.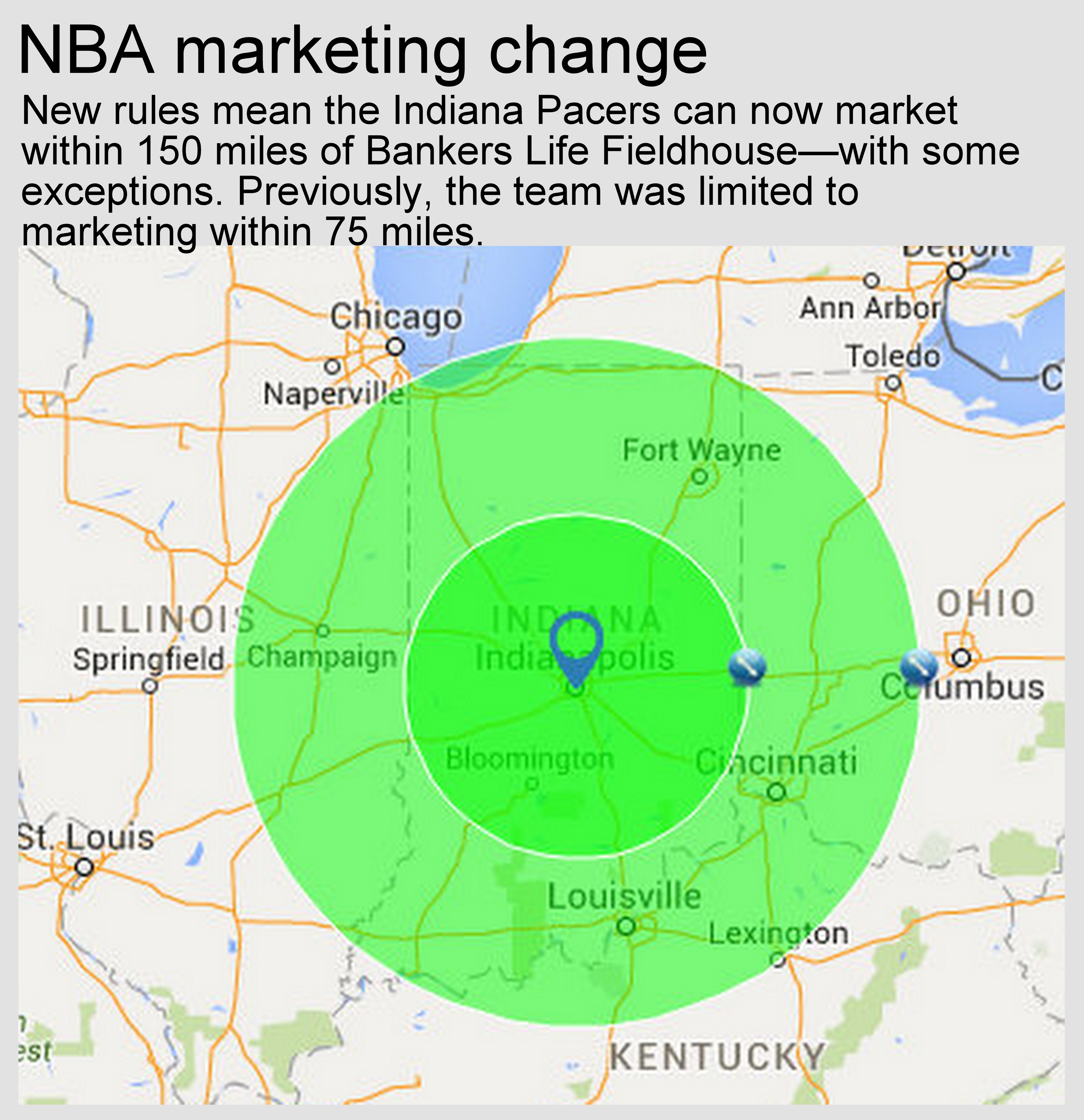 "These are bottom-line dollars," said Marc Ganis, president of Chicago-based SportsCorp Ltd., a consulting firm that counts several teams as clients. "These are dollars that help the small-market teams compete with the big-market teams. So this is a big deal."

The Pacers are the poster child for potential beneficiary of relaxed rules, which IBJ previewed last year. The nearest team directly west of the Pacers is the Denver Nuggets and the nearest teams south are the Memphis Grizzlies and Charlotte Hornets, all hundreds of miles away.
And while the Chicago Bulls lurk to the north, there is still much untapped ground outside both teams' previous 75-mile limit, even in Indiana.
"We are pleased the NBA will allow us to market in Cincinnati, Louisville and other markets in the region," said Pacers President Rick Fuson. "We are very pleased to be able to share the brand of the Pacers with thousands of new potential fans in cities and regions we were unable to market to in the past."
Under new NBA regulations, Pacers marketers can now advertise their team to fans and potential fans in key markets including Fort Wayne, Louisville and Cincinnati. Even markets as far away as Lexington, Kentucky; Champaign, Illinois; and the western suburbs of Columbus, Ohio, are now in play.

The population in the 75-mile radius of the fieldhouse is 3.4 million, according to Census estimates. But the population in the 150-mile radius of the fieldhouse is 13.3 million people—although some of those areas may be deemed off-limits because they are within a 75-mile radius of another NBA team. That will include a sizable part of the Chicago metro area.

Last summer, NBA owners began considering an expansion to its long-standing market rules.

At their meeting last month, owners agreed to double a team's marketing area to the 150-mile radius and throughout its entire home state even if it goes beyond that limit, provided it doesn't overlap another team's 75-mile marketing area.

The new rule includes all promotions and advertising including billboards and in-store displays. It also allows team sponsors in more far flung locales to use team logos and marketing material in their own advertising efforts.

The rise of digital media was a big impetus in making the change, which was approved unanimously by the league's 30 owners.

The new rule, said NBA officials, means the league's teams can now market to an additional 100 million fans that were before off-limits due to the 75-mile radius rule.

Teams are prohibited from treading inside another team's 75-mile radius, but teams will be allowed to compete in areas where their 150-mile radius' overlap. That could be the case in parts of Columbus, Ohio where the Pacers and Cleveland Cavaliers expanded territories overlap or in parts of northern Indiana and central Illinois where the Pacers and Chicago Bulls marketing areas overlap.

The NBA is even allowing teams to jointly market in overlapped areas of their new marketing zones. The Miami Heat and Orlando Magic are planning a joint marketing strategy in parts of Florida.

"The teams definitely don't want to spend a bunch of money in a marketing war with other teams," Ganis said.