Flat 12 Bierwerks is revving its engines again this spring to roll out two IndyCar-themed beers, including one to commemorate the 100th running of the Indianapolis 500.

The Indianapolis-based brewer is bringing out its Hinchtown Hammerdown beer for another spin at its Can Prix event on April 2. It will be available on tap and in cans (see photo below) at the brewery and other outlets through Labor Day.

Popular IndyCar Series racer James Hinchcliffe was at the eastside brewery Monday to help make the beer that bears his name.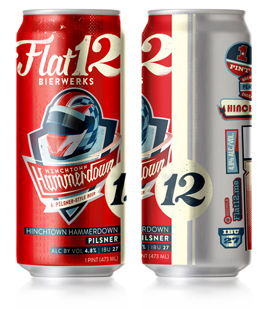 Flat 12 officials said they brewed 200 31-gallon barrels on Monday just to get the popular brew into the market, promising that more of the brew was still to come.

Since debuting in 2013 in Flat 12's tap room, Hinchtown Hammerdown has gained a wide following. In 2014, when distribution was expanded across central Indiana, it became one of the brewery's top three sellers alongside Upside Down Blonde and Half Cycle IPA, said Flat 12 co-founder and CEO Sean O'Connor.

Sales of the beer—which is only sold during the IndyCar season—increased by a double-digit percentage when its footprint expanded all the way to Hinchcliffe's hometown near Ontario, Canada.

"It's the theme and James' popularity that have helped with sales, but it's also what's inside the cans," O'Connor said. "It's a light, easy-drinking beer that is palatable across the board to all kinds of consumers."

Flat12 tweaked the Hinchtown Hammerdown can design this year to commemorate 100 years of racing in Indianapolis and Hinchcliffe's return to competition after a major crash last year at the Indianapolis Motor Speedway.

Hinchcliffe also drove the effort to make Flat 12's new beer, The Bricks Red IPA.

"James reached out to us and said, 'I'd be interested in brewing an IPA," O'Connor said. "We expect to get a really good reception. It's a popular style of beer, we've gotten some good press on it, and we're putting together a really good event to kick it off."

The Bricks Red IPA, specifically intended to commemorate the Indy 500's big milestone, will go green at a release party at Flat 12 on May 6.

"At the event we'll be selling The Bricks by the yard, so race fans can have a yard of bricks," said O'Connor referring to the start/finish line at the Indianapolis Motor Speedway and tall beer glasses, aka "yards."

This Bricks beer is complemented by the addition of milk sugar, echoing the tradition of the 500 winner drinking a bottle of milk on Victory Lane and kissing the bricks, O'Connor added.

Flat 12 is only planning to brew enough of the new beer—which will be sold on draft and in 12-ounce cans—to last a couple of weeks. So by the time the Indy 500 is run May 29, the new beer will be all gone.

O'Connor didn't discount the possibility of brewing up a new idea for another racing-themed beer for future race seasons.