Despite adding hundreds more concession stands as part of the track's widescale Project 100 improvements this year, Indianapolis Motor Speedway officials say they are giving no thought to outlawing coolers.

"We don't know exactly what percentage of our customers bring a cooler, but it's big. It's a big percentage and it really is part of that experience," Speedway President Doug Boles told IBJ. "So to the extent that we can manage it and manage it safely, we will continue to allow it."

Not only do Speedway officials fear there would be a massive backlash if they banned people from bringing their own food and drink to the track, there's uncertainty that IMS has the infrastructure to handle the increased demand for concessions a cooler ban would create.

In 2013, the issue was less clear cut.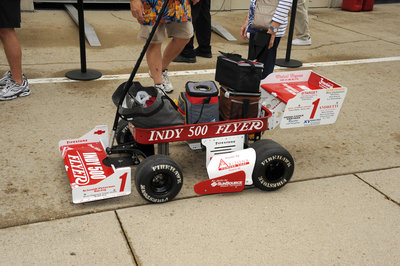 "In 2013 when the Boston [Marathon] bombing happened, we thought for a little while about just eliminating [coolers] altogether," Boles told IBJ. "But it's so much a part of the experience. People bring them, and I don't think it deters them [altogether] from concessions stands."

"I think people bring what they want to drink and what they want to eat. It gives them more options," Boles added. "A lot of people do both [bring a cooler and go to the concession stand]."

As part of Project 100, which is set to wrap up this month, the track has doubled the number of "concession points of sale" to more than 1,100, according to Boles. But he said if coolers were banned, the speedway would need at least 2,200 concession stands to serve the masses.

Boles conceded that banning coolers would increase IMS concession stand sales—something that would be good financially for the track and its concession vendor, Levy Restaurants. But the increased demand from fans could be problematic from a customer service standpoint.

"Say half the people bring a cooler. If you have to double [the number of concession stands] to make sure you're serving people, the staff numbers would have to be increased tremendously. That's a monumental task," Boles said.

"This is an event like no other in terms of size and layout," he said. "It's a mile long by a half-mile wide. There's 300,000-plus people. That is a really, really tough job for a concessionaire to do one time a year. It's not like you can do it and learn something today and change for tomorrow. You get to do it one time a year. That would be hard."

Levy has not lobbied for a cooler ban, Boles added.