If you are a fervent Indianapolis 500 fan—and have a pile of cash burning a hole in your pocket—Herff Jones has the ring for you.

For the first time this year, racing fans can buy a replica of the Champion of Champions ring made for the Indy 500 winner.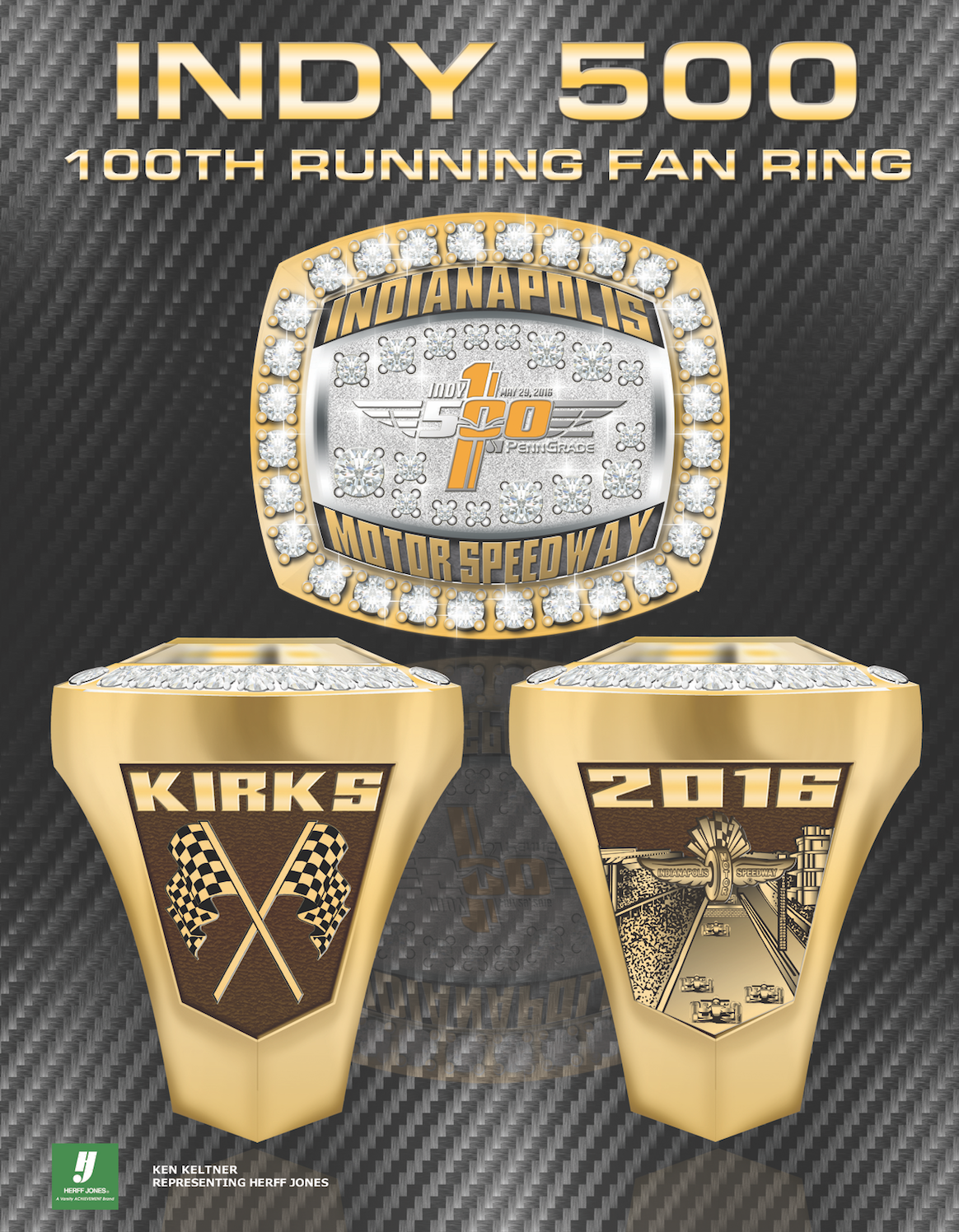 The Indianapolis-based maker of class rings, yearbooks and graduation garb this year is selling a commemorative ring for the 100th running of the Indianapolis 500.
For more than 40 years, Herff Jones has made rings for each of the 33 drivers in the race, the winner of the 500-mile race, pace car driver and nine rings for the crew that wins the Pit Stop Challenge. This year, for the first time, it is making a limited edition ring available to race fans.
Herff Jones is only making 500 fan rings, with each ring numbered. After 500 are sold, the dyes will be destroyed and no other rings will be made, Herff Jones officials told IBJ.
The rings can be made in various metals: stainless steel, extreme silver, 10 karat or 14 karat gold (yellow or white), with a choice of 1.56 carat cubic zirconia or diamonds.
The diamond rings vary in price from $4,920 to $9,001, with a $5,640 and $6,445 version shown as well.
For the cost conscious race fans, the cubic zirconia models range in price from $760 to $4,841.
The fan's name will be on one side of the ring and inside the ring will be the IMS copyright mark and a certification mark (it will have a number: this is 1 of 500, for example). The top of the ring is cut with the 100th running logo and surrounded by 1.56 carats of diamonds or cubic zirconia stones. One side of the ring is cut with 2016, an image of the track and the Indianapolis Motor Speedway wing and wheel logo. The individual's name is cut into the other side and includes two checkered flags.
Herff Jones will be selling rings at the track outside the gift store next to the pagoda on May 13 and 14, qualification weekend, Carb Day and May 28—the day before the race. Race fans can also buy the rings online at Hjindy500.com.