The Indiana Pacers are set to pay Pike High School graduate Jeff Teague $8 million this season.

Earlier this month, Teague was traded from Atlanta back home to Indiana. He becomes a free agent after the coming season, and, if he plays well in his first season for the Pacers, he could be in line for a sizable raise.

And one thing is certain. Teague wants to stay in his home state.

"I always wanted to play for the Pacers and get home," Teague said. "I want to be here. I've told my agent that. I want to be here for a long time."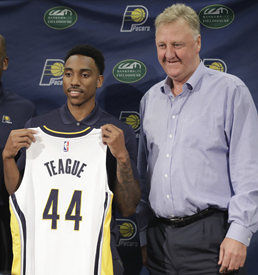 Teague, flanked by fellow Hoosier Larry Bird, wants to stay in Indiana. (AP photo)
Despite his considerable riches, Teague won't be buying a mansion on Geist or a pricey condo downtown anytime soon. That sound you just heard was a collective groan from central Indiana's biggest residential real estate agents.

Instead, the 28-year-old Hoosier will be moving in with his parents. And this is no short-term deal.

Teague explained to WNDE-AM 1260 on Monday that since being traded from the Hawks to the Pacers, he has moved in with his parents, and plans to stay there "the whole year."

"I bought a home here some years back, and when I re-signed back with Atlanta [in 2013] I just decided I was going to live in Atlanta and just gave the house to my mom and dad," Teague explained. "Now I'm going to live back in my old house with my mom and dad."

So where will the millionaire sleep? Surely, the guy who bought the house gets the master bedroom, right?

Those who know the unassuming Teague know better.

["My parents] have the master, I just have the basement," Teague told WNDE matter of factly.

Does living with his parents mean he'll have a curfew and chores?

Teague laughed at that notion.

"I haven't had a curfew since I was 18," he said.

And chores?

"My dad was mowing the lawn, so I got out of that one," Teague said.

There's no word on who will be in charge of dish washing and house cleaning.

If he stays true to form, Teague, who averaged at least seven assists per game in two of his last four years in Atlanta, will always be willing to lend a helping hand.