The training-race series for the One America 500 Festival Mini-Marathon is moving its start and finish lines to a new location next year in the heart of downtown.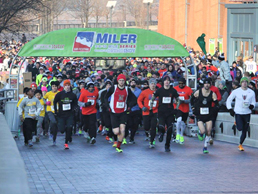 The three Miler Series races this year attracted a total of 6,000 participants. (Image courtesy 500 Festival)
Pacers Sports & Entertainment has agreed to host the 500 Festival Miler Series at Bankers Life Fieldhouse starting in 2017. The three events (a three-, six- and 10-mile race), run by the 500 Festival, previously started and finished at White River State Park. Next year, the races will kick off and end on Pennsylvania Street in front of the fieldhouse.
The three-mile race will take place Feb. 11; the six-miler will be March 11; and the 10-mile race is set for April 8. The Mini-Marathon is scheduled for May 6.
The location change will allow the Miler Series to "continue expanding and meeting the growing demand for events with unique distances," Bob Bryant, 500 Festival president and CEO, said in a prepared statement. "Participants will have the added experience of training on more unique courses alongside some of Indianapolis' most treasured sites."
This year, about 6,000 runners and walkers participated in the series, which was launched in 2004.
"Bringing the Miler Series to Bankers Life Fieldhouse in 2017 will allow for our organization to play a vital role in the Indianapolis running and walking community and promote our shared initiative to get people moving," Rick Fuson, Pacers president and chief operating officer, said in a prepared statement.
The three new courses will weave throughout the Mile Square and adjacent neighborhoods, past such landmarks as the Soldiers and Sailors Monument, down Massachusetts Avenue, and around Fountain Square. To see the courses, click here.

When starting from White River State Park, the Miler Series events stuck to downtown's western outskirts.
The Miler Series events are designed to coincide with typical training programs for a spring distance race such as the Mini-Marathon. Runners and walkers can register for one, two or all three races in the series. Each race in the series will be chip-timed.
Participants can pre-register for all three races for $40, or on-site for $45.