On Saturday, the Eiteljorg Museum of American Indians and Western Art will open a massive, new exhibit with numerous painting and artifacts that have before been seen in a museum. By all accounts—including my own—the pieces in this new collection are spectacular.
What's less known is the 400-piece collection's connection to Indianapolis' bid for Super Bowl XLVI in 2012.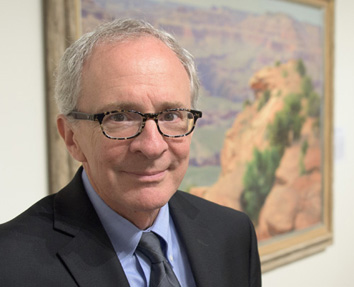 John Vanausdall, CEO of the Eiteljorg Museum, had two big asks for Kenneth "Bud" Adams. (IBJ Photo/Eric Learned)
When John Vanausdall took the job as Eiteljorg CEO 20 years ago, he never imagined it would lead to him lobbying to bring a Super Bowl to Indianapolis.
Vanausdall knew Kenneth "Bud" Adams first as a collector extraordinaire of Western and Native American-themed paintings and artifacts—and as an NFL owner second.
Since first meeting Adams and seeing his collection in 2004, Vanausdall had developed a friendship with the owner of the Tennessee Titans.
Vanausdall had learned that Adams, who is an Oklahoman of Cherokee descent, was home on weekdays at 11 a.m. and somewhat surprisingly would take his call. The two would talk for hours about Adams' collection and other Western and Native American paintings and artifacts.

Over the years, Vanausdall began the process of lobbying Adams to donate his collection to the Eiteljorg, which is located on the west edge of downtown. The ask, Vanausdall said, was "a gentle process."
Over the years, two men developed a fondness for one another.
So, in 2008, Indianapolis' Super Bowl host committee asked Vanausdall to put in a good word with Adams about the city's bid to host the big game.

Vanausdall isn't sure his efforts in that regard did much good. When he asked Adams to support Indianapolis' bid to host the 2012 game, he wasn't surprised by the non-response.
"He listened, but he really didn't say anything," Vanausdall recalled of the 2008 discussion.
Vanausdall had heard that response, or rather lack thereof, many times before when asking about acquiring the art collection.
"The strangest thing was, he never answered," Vanausdall said. "He never gave us a hint he was going to give us the collection."
To Vanausdall's surprise, he got a call from Adams' attorney several months after Adams died in the fall of 2013.
"He said, 'I suppose you know why I'm calling.' And I responded, 'I haven't a clue.' And I really didn't. That's when he told me Bud had bequeathed his collection to the Eiteljorg," Vanausdall recalled.
This time, it was Vanausdall who went quiet.
"I came close to falling out of my chair," he said.
After he gathered himself, he dashed out of his office and yelled down the museum's main stairs to Eiteljorg's Chief Curatorial Officer James Nottage, who was leaving for the day.
"I knew the minute he told me, it was going to be one of the most important things to happen to the Eiteljorg," Nottage said of the collection valued by some appraisers at more than $15 million.
And who knows, maybe Vanaudall's request for Adams support of Indianapolis' Super Bowl bid received the same silent acceptance.
Both requests were met with the same lack of response. Both resulted in big scores for the city.
As one of the founders of the American Football League (and founder of the Houston Oilers) in 1960, Adams had myriad friends and allies within NFL ownership circles, including close ties to the legendary Hunt family (which owns the Kansas City Chiefs) and the powerhouse Rooney family (which owns the Pittsburgh Steelers).
Up until the time of his death, Adams remained one of the most well-liked NFL owners, said Indianapolis Colts Chief Operating Officer Pete Ward.

To read more about Adam's collection and the 5,500-square-foot "Titan of the West" exhibit at the Eiteljorg, click here. Reading about it is a good start, but this exhibit is one of those things—kind of like the Grand Canyon—you have to see yourself to truly appreciate.