Welcome to What's New Wednesday, where we profile local startups—and the entrepreneurs behind them. This week, we meet Amy Graham, who opened Amy's PJs in Indianapolis on Oct. 1.

Type of business: upscale pajama boutique

Address: 3961 E. 82nd St.

Phone: 507-6854

E-mail: amyspjs@gmail.com

Website: amyspjs.com (under development)

Opened: October 2011

Owners: Rodney and Amy Graham

Owners' background: Amy Graham, 42, is a first-time business owner. Trained in advertising and marketing, she worked in a variety of sales positions after graduating from Ball State University. In March, she left a position as marketing director of a local plastic surgery practice to work on opening her own pajama shop. She and her husband, Rodney, live in Carmel with their four children.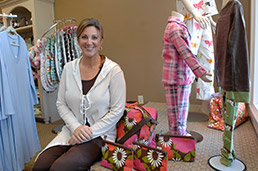 Amy Graham calls herself a "jammy girl." (IBJ Photo/Perry Reichanadter)
Rodney Graham lent his business expertise to the enterprise. The 46-year-old Franklin College graduate has been CEO of Magnum Logistics Inc. in Plainfield since 2000. Before joining the transportation company, he worked in a variety of financial management roles for other national corporations.
Why started business: "I'm just a jammy girl," Amy Graham said, smiling as a visitor took in the flowing loungewear—complete with overgrown fuzzy slippers—she wore to work that day. "It's something I know about."

She'd been thinking about taking her career in a new direction when her father was killed in a car accident almost a year ago. The shocking loss gave her a personal resolve to change her life, and her husband gave her a professional nudge by signing off on her idea of a boutique specializing in pajamas.

"He said, 'I don't think this has to be a dream,'" Graham recalled. "So we're making a go of it."

Competitive advantage: Amy's PJs specializes in upscale jammies, a luxury Graham likens to high-thread-count sheets. The shop's tagline summarizes it well: comfy sophistication. From infants' creepers to men's footed pajamas, quality comes first, Graham said.

The selection is impressive. Silk, Egyptian cotton and moisture-wicking sleepwear. Chenille robes. Slipper boots. Colorful shower caps. Just don't look for lingerie. "I know nothing about that stuff," Graham said.

"I see this as a place people will come to buy gifts," Graham said. "Pajamas are something everybody likes to get, but won't necessarily spend a lot on for themselves."

She plans to switch out the shop's merchandise frequently—all the better to avoid showing up at a slumber party wearing the same PJs as someone else—and already is taking requests from her customers. Major retailers simply can't offer that kind of personal service, she said.

Eventually, Graham plans to design her own line of pajamas.

Startup cost: $143,000

Funding source: SBA-backed loan, personal savings

Potential problem and contingency plan: The shop location—in a strip mall across 82nd Street from the new Nordstrom Rack and Container Store—is both a boon and a bane. Graham fears some potential customers may steer clear of the area because of the traffic.

She hopes her unusual product mix will be enough of a lure. Graham said she looks for inventory that isn't widely available.

That's also how she plans to overcome another possible pitfall: the expedience big-box retailers offer shoppers.

"This isn't as convenient as picking up some pajamas with your gallon of milk and Clorox," Graham said. "But some people prefer a boutique setting, especially when they are buying gifts."

First-year goal: Surviving the holiday shopping season is her immediate goal. Graham expects to hire some seasonal help after her grand opening the first weekend of November. She'll also add Sunday and evening hours to appeal to time-crunched Santas.

Next up is launching a full-service website, something she said is under development now. And Graham also wants to expand her inventory, adding a selection of coffee mugs and other "little extras" that could help boost the bottom line.

Her enthusiasm is unmistakable.

"I'm happy to come to work every day," she said, beaming. "It's mine, and I love it."