Welcome to What's New Wednesday, where we profile local startups—and the entrepreneurs behind them. This week, we meet Peter Brasovan and Jared Byczko, who opened CrossFit NapTown last month.

Type of business: fitness center

Address: 609 N. Delaware St.

Phone: 632-8820

E-mail: info@crossfitnaptown.com

Website: crossfitnaptown.com

Founded: October 2011

Owners: Peter Brasovan and Jared Byczko

Owners' backgrounds: Childhood friends Jared Byczko and Peter Brasovan left hometown Merrillville for Indianapolis to play soccer at IUPUI, then went their separate ways after graduation.

The business majors, both 27, spent a few years working in sales and marketing jobs, staying active—and competitive—by doing CrossFit strength and conditioning workouts. Developed about 10 years ago, the fitness program is built around high-intensity exercises that change every day.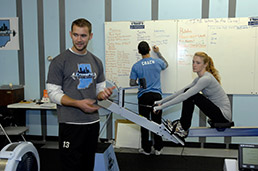 Jared Byczko coaches a member at CrossFit NapTown.(IBJ Photo/ Perry Reichanadter)
Brasovan began by following Workouts of the Day (WOD, in CrossFit parlance) posted online, and exercised at CrossFit Chicago when his schedule allowed. Before long, he earned CrossFit coaching certification and went to work at the Chicago gym.

His enthusiasm caught the attention of Byczko, who was living in the Virgin Islands with friends when he started doing WODs on his own. He also became a certified coach, and the men began looking for a site for their own CrossFit "box."

Although other CrossFit affiliates had established operations in Indianapolis, the partners identified a hole in the market and set their sights on a downtown location.

Why started business: "I literally fell in love with it," Brasovan said of discovering the CrossFit community. And as a big believer in the benefits of the program—embraced by military and police trainers, among others—he wanted to help others see the light.

The concept is simple: constantly varied, functional movements done at a high intensity—though exercises can be adjusted to fit individual fitness levels. It's also decidedly low-tech: CrossFit boxes typically are equipped with basics like barbells, pull-up bars and rowing machines.

Once Brasovan got Byczko hooked, their business degrees got a workout. The national CrossFit organization offers training for coaches and licenses its name, but affiliates are on their own from there.

The partners put together a business proposal, sales forecast and cash-flow projections. Then they rented a Delaware Street building that once housed an FBI tactical team, laid down about 2,600 square feet of rubber flooring and bought equipment.

"We love this city and we believe CrossFit has a tremendous potential downtown," Byczko said.

"It's a great opportunity, a great market," Brasovan concurred. "There are boot camps, yoga studios [and gyms] but nothing like CrossFit, built around community. We want to make this a place people enjoy coming to."

Competitive advantage: That sense of community is what Byczko and Brasovan say distinguishes CrossFit NapTown from other fitness facilities.

"This isn't a place where you're going to come in, put on your headphones and jump on a treadmill," Byczko said.

For starters, all workouts are conducted in a class setting. Six hour-long sessions are scheduled weekdays, two on Saturdays and one on Sundays. And classes are small, at least for the time being, so members get one-on-one attention from the coaches.

Occasional team workouts also give members the chance to get to know one another, something else Brasovan said sets the gym apart.

Three membership levels are available, depending on usage: unlimited visits ($135 per month), three days a week ($115 a month) and two days a week ($99 a month).

Startup cost: The partners declined to share specifics, citing competitive concerns.

Funding source: personal savings, family contributions

Potential problem and contingency plan: Attracting and keeping members is a primary concern at any fitness facility, Byczko said.

The partners believe CrossFit NapTown's location will be a draw, along with the "positive, uplifting" atmosphere they are working to establish there. (And the free parking out back doesn't hurt, either.)

Although fitness crazes come and go—Jane Fonda Workout, anyone?—Brasovan and Byczko believe CrossFit has some staying power. And even if the brand falls out of vogue, they are confident members will come back as long as the workout stays challenging.

"As long as we have a good, quality product, we'll still be here," Brasovan said.

First-year goal: The partners want to build their client roster to the point where 100-plus members are participating in classes every day. They also have big plans for the 5,500-square-foot facility, which offers plenty of room to grow.

A locker room is on the wish list, along with a member lounge and an exterior sign. So far, the city fees for a sign permit have been prohibitive. There's no room in the startup budget for such luxuries.

"We're a small business," Brasovan said. "We keep the lights off and the heat low."